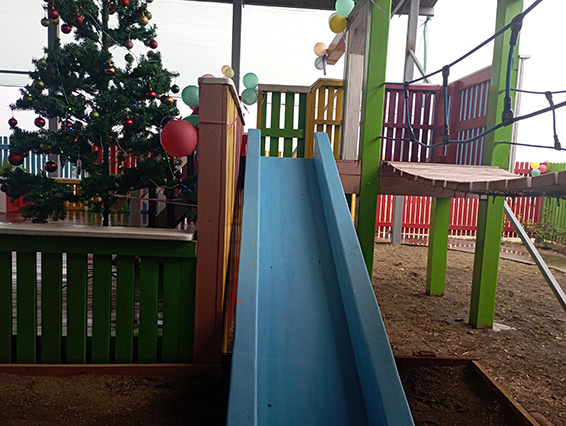 By Timothy Inifiri Jr.
The National Referral Hospital's (NRH) Children's ward (Pediatric Ward) have today officially opened its new children's playground, located just outside of the ward.
The playground was handed over to the NRH management by the Hapi Isles Health Foundation (HIHF), a charitable organization that aims to improve the quality of care for the patients at NRH.
With the playing ground being one of their first objectives since the launch of the foundation back in 2015, HIHF board director Mrs Doreen Kuper in her speech says that since the start of the project, they had no idea of how long it would take for the playground to be completed
"The project has taken so long because of many disruptions. No one knew then in 2016 we would have a global pandemic"
"Now that we are able to do operations here in the Solomons we realized we also needed a playground to assist the children's recovery", she said.
Kuper also acknowledged some of the donors and sponsors which includes the Solomon Islands Government for its monetary contributions, Tongs for supplying building materials for the playing ground, the SI Brisbane Community for their generous contribution in donating Mini Cars for the children, Solomon Airlines, Satsol and all whom have contributed in the successful completion of the playground.
According to Kuper, HIHF will also be looking into their new project of building a Café at NRH for the patients, hospital staff and the visitors.
"I know you will support HIHF in this new project but today I am thanking you for your generous support that has made this playground a reality" she said.
Speaking ob behalf of NRH, acting CEO and head of surgery Dr Rooney Jagilly congratulated HIHF and its partners for a job well done in the completion and official handing over of the hospital children playground.
"Building, coordinating sourcing support and resources takes time and effort especially as a volunteer and I would like to especially acknowledge that."
"Your support to the hospital in this is yet another sign that the community is willing to support the hospital. Sometimes we focus on too big things but small projects and innovative ideas like this are also very important and can have positive impact, in this case especially to our children.", said Dr Jagilly.
Dr Jagilly assured that the children's ward staff will take care of the place as well as developing guidelines for the supervision and safe use of the children's facility.
With this Dr Jagilly also stated the timing of the handling over as timely and sees it as a Christmas gift for the sick children currently at NRH and also in the future and also said that it will be a long lasting Christmas gift that will be enjoyed by many in years to come.
What you think?