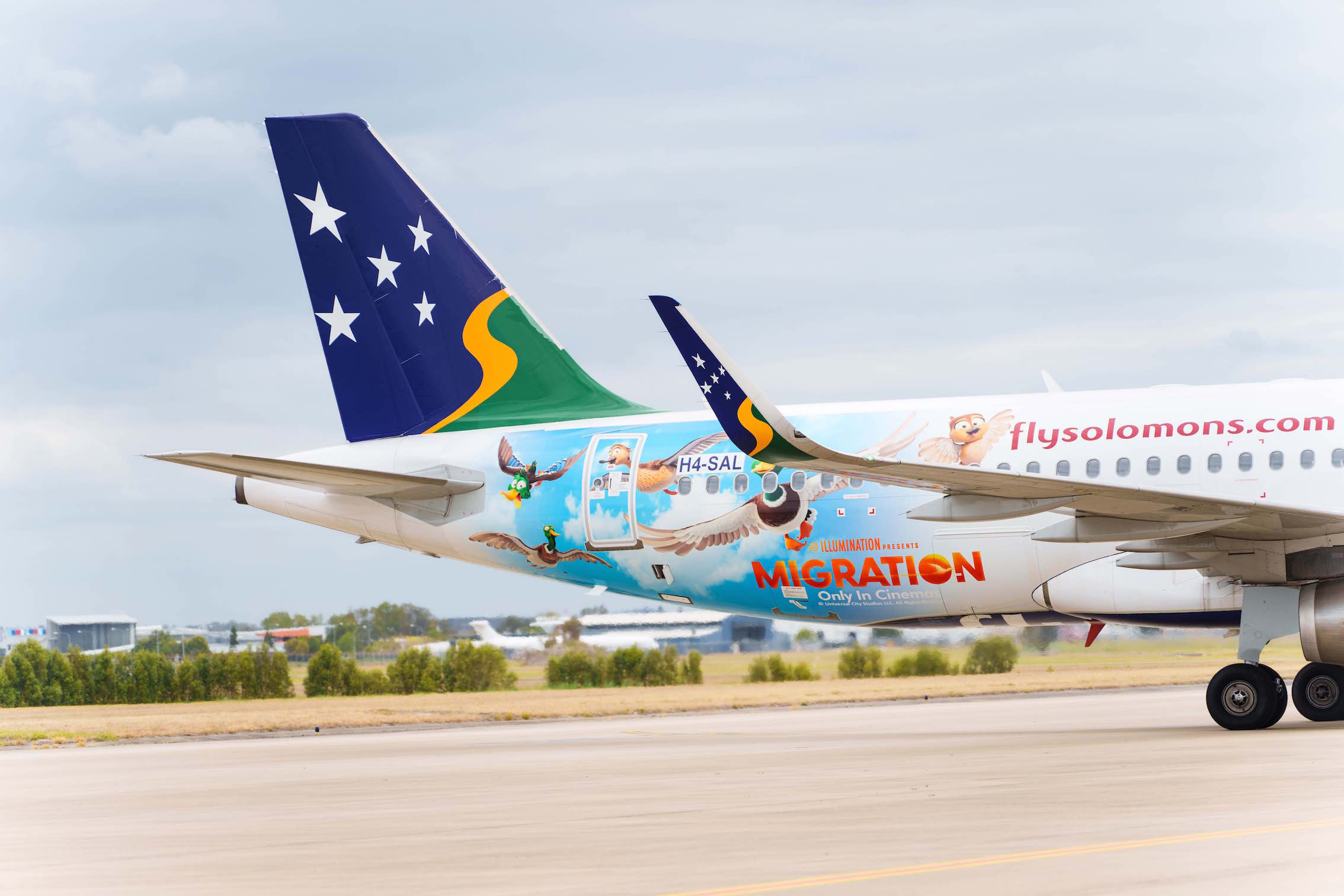 Solomon Airlines has announced a major marketing collaboration with Illumination, one of the world's leading entertainment companies, for the release of its next original animated film, Migration.
Illumination, the creators of record-shattering The Super Mario Bros. Movie and blockbusters Minions, Despicable Me, Sing and The Secret Life of Pets comedies will launch their latest action-packed comedy, in cinemas on Boxing Day, 26 December 2023.

"With our newest A320 joining the fleet, and our Brisbane to Munda direct service re-launched, we could not imagine a better time to partner with Illumination to promote in a creative way, the life-changing experience of travel," said Solomon Airlines Acting CEO, Napoleon Padabela.
"With the our country increasingly recognised internationally as an off-the-beaten-track and untouched leisure destination, we hope to create curiosity about journeying to our own tropical paradise," he said.
"Migration's family-holiday story is very funny, action-packed and a bit like the journey many long-haul travellers might make halfway around the world to discover the Solomon Islands," said Mr Padabela.
"Solomon Airlines recently launched our direct route from Brisbane to Munda in the Western Province,
a tropical paradise also very like the surroundings the movie characters explore," said Mr. Padabela.
Migration's storyline is based around the Mallard family, who are in a bit of rut. While Dad Mack is content to keep his family safe paddling around their New England pond forever, Mum Pam is eager to shake things up and show their kids the whole wide world.
After a migrating duck family alights on their pond with thrilling tales of far-flung places, Pam persuades Mack to embark on a family trip, via New York City, to tropical Jamaica together with teenage duck son Dax and duckling daughter Gwen.
Migration takes the audience on a hilarious and thrilling flight into the unknown with the Mallards as they experience a funny, feathered family vacation like no other.  As they take off and make their way South for the winter, their well-laid plans quickly go awry. The unexpected and intrepid experience of travel, inspires them to expand their horizons, open themselves up to new friends and accomplish more than they ever thought possible, along the way learning more about each other, than they ever imagined.
Solomon Airlines' newest A320 aircraft, registered H4-SAL, will also play a major role in regional promotion of Migration.
From November, the airline will feature the Mallard family on the airline's A320 aircraft livery.  Along the fuselage, will be Mack the anxious father, Pam the daring and quick-witted mother, Dax the confident and restless son, Gwen the innocent and loveable daughter and Dan an adventure-averse uncle.
The colourful aircraft will be revealed in November, flying regularly between Solomon Islands, Australia, New Zealand, Fiji and Vanuatu until early 2024.
"This is one of the largest promotional partnerships we have ever undertaken. Alongside our sponsorship as the 2023 Pacific Games Presenting Sponsor, it will lift the profile of Solomon Airlines and Solomon Islands considerably," Mr. Padabela said.
Aside from the 'flying billboard', Solomon Airlines and Illumination will collaborate on TV, print, digital and travel agency activations, culminating in in-cinema screenings where audience members can win their own Family Adventure to the Solomon Islands.
From a screenplay by Mike White, the Emmy winning creator of The White Lotus and the screenwriter of School of Rock, MIgration stars a top-flight comedic cast.  Oscar® and Emmy nominee Kumail Nanjiani (The Big Sick, Eternals) plays anxious Mallard dad Mack with Emmy nominee Elizabeth Banks (Hunger Games and Pitch Perfect franchises) as Pam, the Mallards' daring, quick-witted matriarch.
Migration is tipped to be a visual spectacle unlike any in Illumination's acclaimed history, featuring elevated, expressionist artistry, Illumination's signature subversive humor and authentic heart, and unforgettable characters and soundtrack. Best of all, produced by Illumination founder and CEO Chris Meledandri, Migration is a film about overcoming your fears and opening yourself up to the world and its opportunities.
About Illumination  – Illumination, founded by Chris Meledandri in 2007, is the entertainment industry's leading producer of event-animated films, including The Super Mario Bros. Movie, the first film of 2023 to earn more than $1 billion worldwide, Despicable Me—the most successful animated franchise in cinematic history—as well as Dr. Seuss' The Lorax, Dr. Seuss' The Grinch and The Secret Life of Pets and Sing films. Illumination's revered studio library includes three of the top 10 animated films of all time.
In April 2023, Nintendo and Illumination's The Super Mario Bros. Movie opened to a staggering $377.5 million worldwide—the biggest animated global film opening weekend of all time—and set new records as the biggest opening weekend in Illumination history, the biggest international and global opening of 2023 so far, the biggest Easter weekend opening ever and the biggest video-game adaptation opening ever.
Illumination is now responsible for the two biggest animated opening weekends of the pandemic era, and The Super Mario Bros. Movie is currently the second highest grossing film of 2023 worldwide.
Illumination's iconic, beloved franchises—infused with memorable and distinct characters, global appeal and cultural relevance—have grossed more than $9 billion worldwide. Illumination has an exclusive financing and distribution partnership with Universal Pictures. Illumination's upcoming films include Migration in December 2023 and Despicable Me 4 in July 2024.
About Universal Pictures – Universal Pictures is a division of Universal Studios (www.universalstudios.com).
Universal Studios is part of NBCUniversal. NBCUniversal is one of the world's leading media and entertainment companies in the development, production and marketing of entertainment, news and information to a global audience.  NBCUniversal owns and operates a valuable portfolio of news and entertainment networks, a premier motion picture company, significant television production operations, a leading television stations group and world-renowned theme parks.  NBCUniversal is a subsidiary of Comcast Corporation. 
What you think?