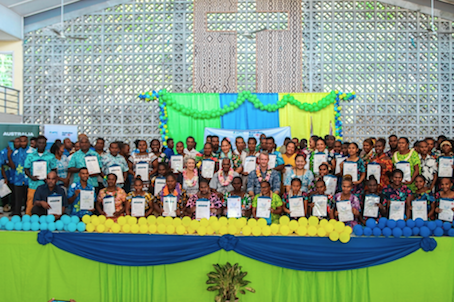 Under the Solomon Islands Australia Skills Partnership, Australia has supported the Australia Pacific Training Coalition (APTC) in training 185 graduates who will be contributing their skills and knowledge to the Solomon Islands' workforce and economic development.
The graduation ceremony celebrated the achievements of 93 women and 92 men across 11 different vocational programs: AgriFood Operations, Construction, Hospitality, Fashion and Design, Carpentry, Commercial Cookery, Community Services, Individual Support, Tourism, Wall and Floor Tiling, and International Skills Training (IST) Trainer and Assessor courses.

Dr Jimmie Rodgers, Secretary to the Prime Minister's Office, commended the graduates for their dedication and expressed optimism about the positive impact they would have on the nation's development. He highlighted the importance of such training programs in equipping the workforce with the skills needed to meet the challenges of a rapidly evolving job market.
"Your qualifications can unlock new opportunities, paving the way for better job prospects in our beloved Solomon Islands and potentially on an international scale," Dr Rodgers said.
The Australian High Commissioner to the Solomon Islands, Mr Rod Hilton, recognised the significance of the occasion, acknowledging the dedication of the graduates and the unwavering commitment of APTC to providing quality vocational education and training.
"Your success is perfectly aligned with the development priorities of the Solomon Islands Government. The Australian Government through the APTC is committed to partnering with Solomon Islands to ensure that training consistently meets the evolving demands of the job market and creates new entrepreneurial opportunities," he said.
One of the graduates, Jasma Kiri, who is currently working at Break Water Café, shared her success story and expressed her gratitude for the opportunities provided by Australia under the APTC. She emphasised how the skills she gained have transformed her career prospects.
"The training I received at APTC equipped me with the skills and knowledge needed for my career, ensuring that I am well prepared and have the necessary skills and knowledge to return to my workplace. Achieving my internationally recognised qualification in hospitality is a great personal achievement," Jasma added.
The graduation reflects the collaborative efforts of APTC, the Solomon Islands Government, Australia, national and rural training partners and students.
The new graduates join more than 19,000 Pacific Islanders, including 2,302 Solomon Islanders, trained by APTC since 2007.
-ENDS-
What you think?