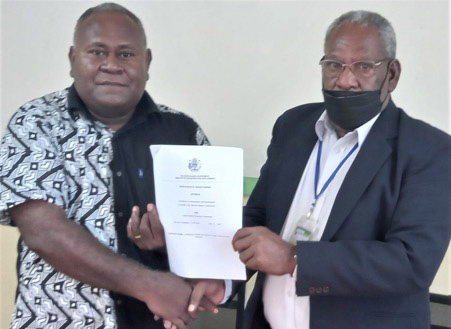 The National and the Central Islands Provincial (CIP) Governments last week signed a Memorandum of Understanding (MOU) that paves the way for the construction of a larger wharf at Tulagi.
The MOU was signed in Honiara on Thursday by the Permanent Secretary of the Ministry of Infrastructure Development (MID) Stephen Maesiola and Provincial Secretary Christian Siale.
The project was announced by Prime Minister Manasseh Sogavare last year when he officiated at the Province's Second Appointed Day celebrations.
Once completed, the wharf will improve connectivity, trade in goods and movement of people on a much safer and climate resilient maritime infrastructure.
In addition, the wharf once completed will accommodate larger vessels allowing more convenient movement of passengers and goods which will boost economic activities.
Construction of the wharf has begun following the signing of the MOU last week.
Meanwhile, CIP Premier Stanley Manetiva this week commended the National Government through the Ministry of Infrastructure Development for the project.
Manetiva said his Executive is looking forward for more collaboration with the National Government and development partners to build necessary infrastructures in the Province.
He believed the wharf once completed will improve the livelihood of his people through enhanced economic activities.
ENDS///
What you think?