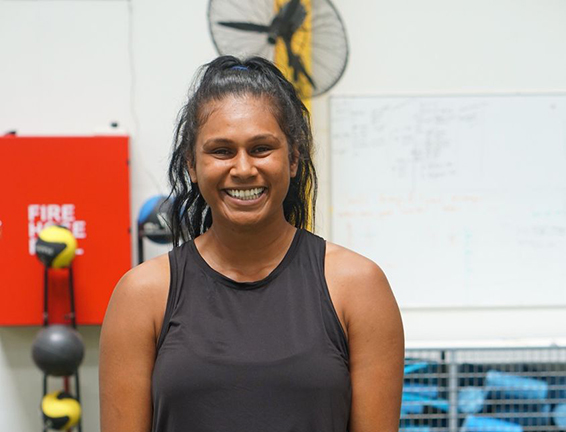 Australian Army Private Jessica Sami will join trials for the national Women's rugby 7s and Netball squads.
The 27-year-old part Australia and Langa Langa (LLL) Lilisiana, Auki Malaita Province was part of the Australian Defence Force troops who are stationed here back in 2019 – her first visit to her mum's home country and village.
She returned this year with anticipations to represent the Solomon Islands at the 2023 Pacific Games.
"I'm excited! I came here to go on trials for the national women's rugby 7s team and the national netball team. Since my time here in the past couple of days I was introduced to the teams in training, assisting out with a few tips and tricks I've learned through my experience with rugby in Australia and I feel maybe I can help in either of the sports," Private Sami said.
Private Sami was included in Makira/Ulawa Hammerheads women's rugby 7s team for the Solomon Islands Rugby Union Federation (SIRUF) National Women's Rugby 7s currently underway – the competition serves to select a national squad for the women's 7s team.
"I'm teaming up with Team Makira/Ulawa Hammerheads for the national women's rugby 7s competition and hoping to be included in the national squad for the games next year.
She represented the Australian force rugby teams in the 15s and 7s code – played against the United Kingdom military team and the Tongan army. She also represented her home state in Netball – in the 15s she played in the center and full back (Backline) and netball as a Goal Defence (GD).
"I wanted to represent the Solomon Islands this time and it means more to me playing for a country I'm part of. I grew up playing netball, but I feel like rugby has the more opportunity to be part of it," she says.
"I feel like this facility has hopes so much for the development of sport because so many people can now involve especially here where there are so many talents and a facility that provides such services to them to improve further on and off the field.
She has been accessing the facilities for training since her arrival as she bids to be part of either sport.
-SINIS Media
//End//
What you think?