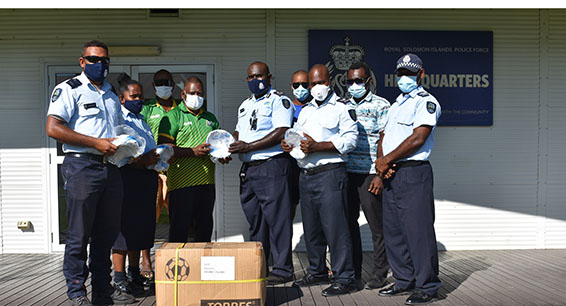 Assistant Commissioner (AC) National Capital and Crime Prevention Mr. Simpson Pogeava has acknowledged Solomon Islands Football Federation Chief Executive Officer Mr Leonard Paia for donating soccer ball gifts to the Royal Solomon Islands Police Force (RSIPF) at Rove Police Headquarters on 17 May 2022.
Pogeava explains there has been an ongoing partnership and support provided to SIFF by the RSIPF in terms of security service especially during football matches hosted here in the Capital (Honiara) when requested by SIFF for the past years.
He says, in response to the continued support SIFF wishes to donate 20 soccer balls to the RSIPF sport teams.
"I would like to acknowledge the SIFF CEO Mr Paia for the donation and look forward to working together in partnership with you and your team in the future," he said.
What you think?