Home
Breaking News
OMS hands over $34,480 to Ephraim's family after 2 weeks' photography campaign
OMS hands over $34,480 to Ephraim's family after 2 weeks' photography campaign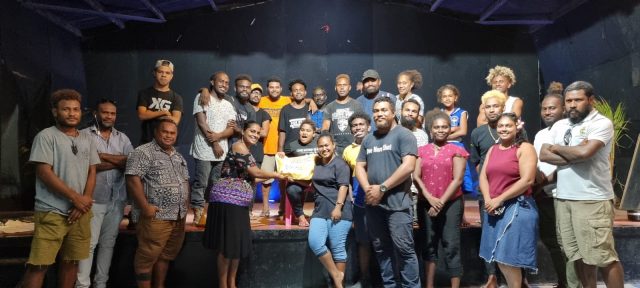 Sponsored Advertisement

Yesterday, 04.07.22, One More Shot (#OMS) officially handed over funds raised during the two-week public photography campaign to Ephraim and his family at the Dreamcast Theater Art hub. The event occurred in the presence of #OMS photographers, executive members of #OMS, Board members of Dreamcast Theater, and the wider collaborative support system of the Dreamcast Theater and #OMS community.
A total of $34,480.00 solely from the photography campaign was given to the family by the #OMS4Campaign Coordinator and Vice treasurer of #OMS, Juanita Aitorea. Once OMS initiated the campaign, other groups, offices, business houses, schools and individuals joined the #OMS4Ephraim by holding their own fundraising drives and making donations directly to Ephraim and his family. The amount raised via this direct channel was $16,378.90, bringing the consolidated #OMS4Ephraim funds to $50,858.90.
Speaking at the event yesterday, Pastor Ben Musuota, Ephraim's father emotionally shared his perspective on the campaign, "Seeing you all running across town during the campaign, I was overwhelmed by how young people were taking action. I don't know how else I can thank OMS for helping us."
This was echoed by Priyashni Musuota, Ephraim's mother as both parents imparted God's blessings to the OMS community and everyone who helped push the campaign, while strongly pledging their support for future campaigns.
#OMS4Ephraim Campaign Coordinator Juanita Aitorea shared 'To the public, thank you one and all. This would not have been possible without you.'
Highest gratitude is given to the Solomon Islands public for the massive response to this cause. Appreciation and acknowledgement must be given to other groups, business houses, offices, schools and, all individuals in-country and overseas, including Zumba Club and wantoks abroad, who contributed to the #OMS4Ephraim Campaign in their own way.
To everyone who has contributed to the campaign on one way or another: Your generosity is a clear statement of our chain reaction-patriotism that needs to be tapped into more often, and a testament to our goodness as a proactive people in the face of great causes.
Support is still greatly welcomed. If you would like to support Ephraim, please contact Pastor Ben Musuota directly on phone 7654827/7193127.
ENDS//
What you think?