CAUSE Project yesterday handed over the Noro CBD jetty to the Noro town council.
In a statement yesterday, the Noro Town Council President – Fred Naphtali said Noro is a multi-cultural town that is growing in a faster pace.
He said there are lot of development happenings in Noro town.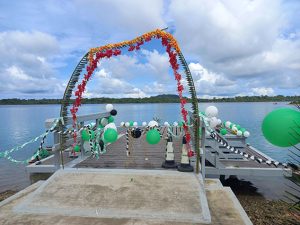 With such infrastructure provided to them is a vehicle to boost economic development in the township and the Western Province as whole, he stated.
Naphtali acknowledged those who built the infrastructure and the donors who seen it fit to invest in Noro. He assured them that the Noro town council will look after them well.
Meanwhile the Provincial Secretary acting for Western Province Mr. Patrick Toiraena dedicated the event yesterday thanked and acknowledged the former Provincial Secretary Mr Jeffrey Wickham, who has been very instrumental in directing and negotiating many of the CAUSE project undertakings in Noro, Munda, and Gizo, during his tenure as PS, that has lapsed earlier this month.
Toiraena thanked CAUSE project, the Australian Government through DFAT, for once again stepping in to assist Noro Town in erecting this very useful infrastructure.
He said DFAT has stepped in with additional funding to assist the project and it is really pleasing to see DFAT's continuous assistance and support and this demonstrates the ongoing partnership ever since the Gizo market project three years ago.
"I believe what has transpired is an ever-growing confidence in current structural arrangements which enables good governance and transparency as well as the capability and capacity of personnel to accomplish such useful initiatives," said Toiraena.
He also believes that these are life altering projects and it is very encouraging to note the immediate impact that this will have on peoples' lives.
The Gizo market, Munda market, Noro Market including the jetties – these have a direct impact on peoples' livelihood and "I think these are the sort of investments that must be encouraged," said the acting PS.
He thanked the CAUSE project and the World Bank team.
"You have truly become a 'game changer' ever since your establishment here in Western Province. Besides the many Jacob ladders, footpaths, markets, and other community services we now have 3 jetties at Gizo market, 1 at Munda and we now have two in Noro. Definitely this will make embarkation and disembarkation much easier especially if you are loading or unloading stuff. Both vendors and the public alike would really welcome this simple but very useful infrastructure," said Toiraena.
"We also have people with special needs, the pregnant mothers, the elderly and small children, this certainly will make things easier for them as well," he said.
Toiraena also thanked other stakeholders the likes of NFD, SOLTUNA, SI Ports and other government agencies for their continuous support to Noro Town Council throughout the years.
"Noro will not be what it is without all your meaningful contributions," he said.
He urged members of the public and end-users, please let us respect and look after this wonderful gift.
"These infrastructures were erected to serve a purpose and it is to our benefit. I therefore urges everyone NOT to vandalise, deface or abuse it but responsible for its upkeep to ensure it continues to benefit everyone in years to come," said Toiraena.
End//
Press Release
What you think?