Komuniboli unique projects start to bear fruit as partners visit
Komuniboli Community on Guadalcanal came alive today as it showcased its projects to its visiting development partners.
Komuniboli which is not far from Ruavatu School is one of the two communities, the other being Falake on Malaita, that benefit from the Japan International Cooperation Agency (JICA's) Technical Cooperation on Capacity Development for Sustainable Forest Resources Management in Solomon Islands.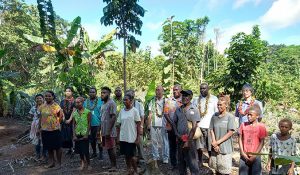 Japan Ambassador Miwa Yoshiaki, JICA Resident Representative Watanabe Takeshi, the Permanent Secretary to the Ministry of Forestry and Research, Dr Vaeno Vigulu, Chief advisor of JICA, Project on Capacity Development for Sustainable Forest Resources Management in Solomon Islands Dr Nishikawa Tatsuji and officials from their organisations took the nearly two hours trip to Komuniboli.
Background
The five years' project which is ending in August next month's purpose is to enhance the capacities of the Ministry of Forestry and Research (MOFR) to implement Sustainable Forest Resource Management (SFRM) in Solomon Islands. The two pilot sites project include forest management and livelihood activities including agroforestry, selective cutting and milling, livelihood improvement activities (piggery and chicken farm).
How it works
At the agroforestry, the villagers planted trees, fruits and other food crops in just one plot land. Unlike the traditional practice where a garden is only for a specific food or vegetables, they are planted in one block.
One of the farm managers, Belinda Amba said the new approach is good because it allows them to concentrate on just a plot and it saves time and effort.
"We are happy with the outcome from our garden. It is less work and good output," Amba said.
In the garden, they plant teak trees, mahogany distances apart and also pineapple and other root crops.
Not faraway is the chicken farm. It is run and managed by the young people of the community.
"We see this as a good imitative as it helps us to stay away from other unwanted social behavior activities in our community. We are starting with 100 chicks and hope when they are sold we'll build on from here," said team leader, Alex Moses.
Then down the slope next to the village is the site for the selective cutting and milling. There, they operate a lucas-mill whereby trees are felled distances away. They identify several trees in a zone and before each tree is downed its pathway is cleared to avoid it causing environment damage to the environment. Soon after a tree is cut it is then replaced with up to five trees.
Lucas-mill operator Abraham Mangna said the new approach is sustainable because it involves replanting of trees to replace the ones they cut.
He adds the technique of cutting trees far apart helps in control huge damages to the environment.
Hillary Wemani, the project promoter said: "The project activities witnessed today is part of pilot site community plan to achieve what had been created as their vision.  They actually plan it themselves, they implement the activities themselves and ownership is theirs too," he said.
Wemani recalled that: "I could remember in 2018 when the former Project Coordinator, Kato Takaaki, and I came to explain to the Komuniboli community members that their community had been selected for pilot site community for trial of the JICA SFRM Project Model, we were told by the chief, Joseph Manengelea, to pay a certain amount of money before establishing our project in this community.
I told the community members of the model need to be tested and ownership is theirs. I thank the chief for giving the JICA SFRM Project model a chance to be tested and today we have witnessed unveiling of the idea. The same scenario could be projected for the Nation of Solomon Islands," he said.
News@SBMOnline2022
What you think?