Honiara tops vaccine rate with Malaita lagging at the bottom as national rate now hit 41%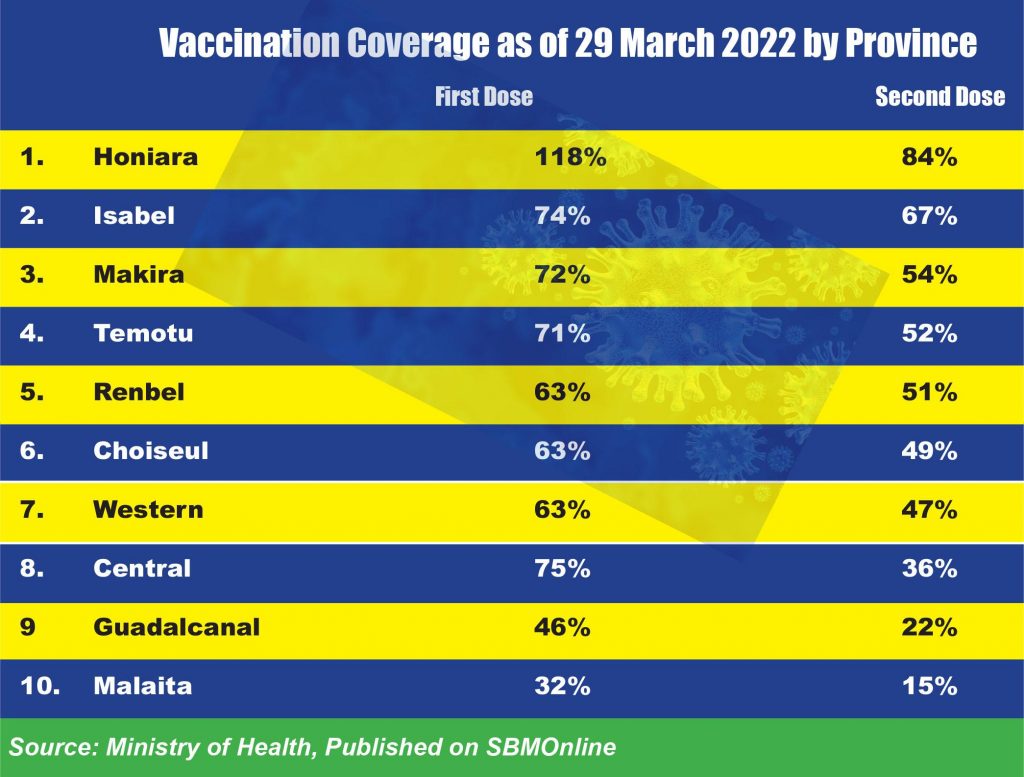 Latest vaccinate data as per province that was released by the Minister of Health and Medical Services Culwick Togamana shows Honiara has nearly hit the 80% in terms of double dose, whilst Malaita is lagging behind with just 15%. (See our compilation of details).
Why Honiara 118%
The 118% first dose recorded for Honiara also includes those from the provinces that have taken their jabs in the capital. And though they are from the provinces they were recorded against Honiara and this has affected the projected eligible Honiara population who are eligible for vaccination. As a result, it pushes the percentage beyond 100.
On national coverage the figures have improved to 41%, an increase by two percent since the last report of those fully vaccinated whilst the first dose is now 62%.
Togamana said the vaccination roll out continues in the country and as of Tuesday this week, in the 18+ years category, 174,655 people have been fully vaccinated (41%) with two doses and 266,412 (62%) have received at least one dose of COIVID vaccine.
The Pfizer vaccine is being administered to adolescents between 12 years and less than 18 years. The roll out of Pfizer is currently ongoing in Guadalcanal, Honiara, Makira, Temotu and Western and will start in other provinces soon.
What you think?