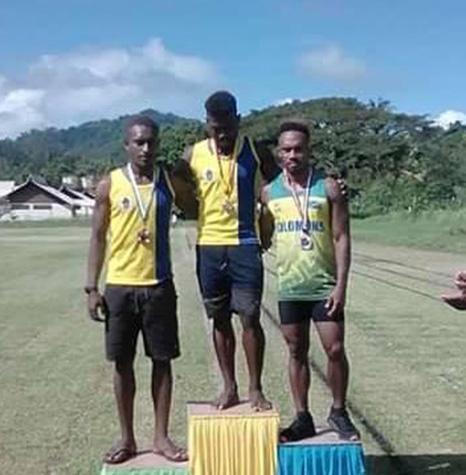 Two unknown Guadalcanal athletes, one from a primary school, caused upsets today as they shocked national and regional golden girl Sharon Firisua in the National Athletics Championships now happening in west Guadalcanal.
At the same time, a new champion was also declared in the men's 100 meters sprint when Selwyn College student David Walasi stormed home to grab the gold medal with a time of 11.10.
The National Athletics Championship which brings together athletes from Honiara, Guadalcanal, Central, Malaita and Isabel got underway at Selwyn College this morning with the 100 metres where Walasi (11.10) won the event ahead of national sprinter Paul Ma'unikeni who recorded a time of 11.29, whilst another Selwyn College student Arthur Okai finished third with 11.34.
In the women's sprint event, Honiara's Jovita Ambrose claimed gold followed by her city teammate Sama Mamae and Central Islands Province's Kathy Gitoa in third.
But the surprise came in the women's long and middle events where Rose Pita of Guadalcanal, Longu area, defeated champion female runner Firisua in 3,000m. Another Guadalcanal athlete Resitina completed the top three.
In the 800 meters, a primary school student from St Francis Anglican Primary School, Purity Fakafu, surprisingly finished as the winner ahead of Firisua with another from Vaturanga coming third.
"She's a class 3 student," said the Acting President of Athletics Solomons Nelson Kabitana.
He said so far he's happy with the outcome of the competition.
The sprint events were held at Selwyn College whilst the long and middle distance events are now hosted at Vaturanga, just before Selwyn College.
What you think?