GOV'T TRANSFERS PERPETUAL ESTATES LANDS TO MAKIRA/ULAWA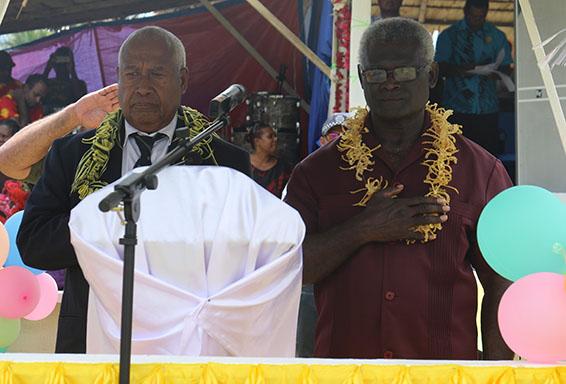 The National Government has today held an official ceremony for the transfer of Perpetual Estates to the Makira Ulawa Provincial Government.
Prime Minister Manasseh Sogavare announced during his official address marking the Makira Ulawa province Second Appointed Day celebrations this morning.
"The land being transferred now includes the whole of Kirakira township, as well as lands at Ngorangora, Pamua, Waimasi, Faghani, Namuga, Ghupuna, Malaulalo, Alangaula, and Moli on Ulawa Island. In total there are 97 Perpetual Estates being transferred," said Prime Minister Sogavare.
This is a fulfilment of the Prime Minister's statement during last year's Second Appointed Day celebrations when he stated the Government was in the process of transferring the Perpetual Estates in Makira to the Premier of Makira Ulawa Province.
Prime Minister Sogavare said, the transfer process has been a long journey but with the support and hard work of expert government officials, the task has been achieved.
The Prime Minister has advised the Premier and his Assembly to manage the lands well and in the best interests of the people of the people of Makira Ulawa Province with an eye on the future development for generations to come.
"Please ensure that you carry out due diligence in assessing potential lessees, that they have the financial capacity and local support to carry out their development projects, otherwise these lands could continue to lie idle for years to come."
He encouraged the Makira Ulawa Provincial Government to continue to consult with the National Government to help identify the best ways to utilise these lands in the best interests of the people of the province.
Prime Minister Sogavare also thank the Commissioner of Lands for his hard work and commitment to ensure that the transfer happens.
ENDS///.
PM Press.
What you think?