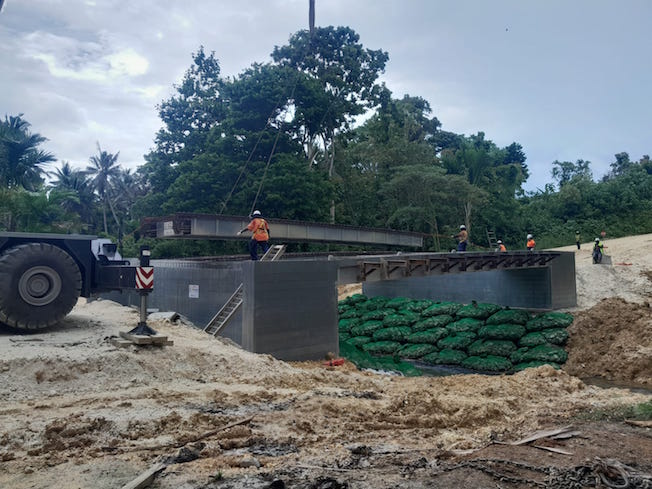 Investments in Malaita under the Solomon Islands Roads and Aviation Project (SIRAP) are progressing well. Implemented by the Solomon Islands Government with support from the World Bank, the projects are continuing to improve the safety and resilience of Malaita's transport network.
The three new Malaita bridges constructed under SIRAP are Koa, Bio 1 and Bio 2 Bridges along North Road in West Kwaraáe Constituency.
An international contractor, Reeves Envico, has been contracted by the Ministry of Infrastructure Development to undertake the works with supervision provided by SMEC with their team based in Auki.

Koa bridge is being replaced with a reinforced concrete bridge, whereas Bio 1 and Bio 2 are using the InQuik bridge system, an in-situ poured reinforced concrete bridge system.
For Koa bridge, the sheet piling works under the bridge have been completed and the focus has moved to steel installment for the northern and southern abutment, scour protection works and the stream bank slope activities. For Bio 1 and Bio 2, the bridge abutment and scour protection work under the bridge have already been completed. In addition, the InQuik bridge decks are installed. Reinforcements are currently being tied and concrete pouring is scheduled for the end of November and early December.
"I would like to thank the World Bank for funding these bridges alongside the rest of the many other sub-projects within SIRAP,'' said Stephen Maesiola, Permanent Secretary of MID. ''The replacement of these bridges will provide easier access to health and education, help Malaitans grow business and trade opportunities and lead to better connected communities," he added.
In addition to SIRAP, SIRAP2 will also be constructing four new bridges in Malaita (Kolofe1 and Kolofe2 on North Road, and Su'u Harbor and Bira Bridges on South Road) and includes a range of additional road and aviation infrastructure upgrades. Supported by the Ministry of Communication and Aviation, these works include upgrading roads in Noro, providing upgrades to the Honiara International Airport Runway and Santa Cruz (Lata) Airfield, providing investments in air navigation systems in Makira-Ulawa and Temotu Provinces, and supporting regional airport maintenance.
End//
What you think?