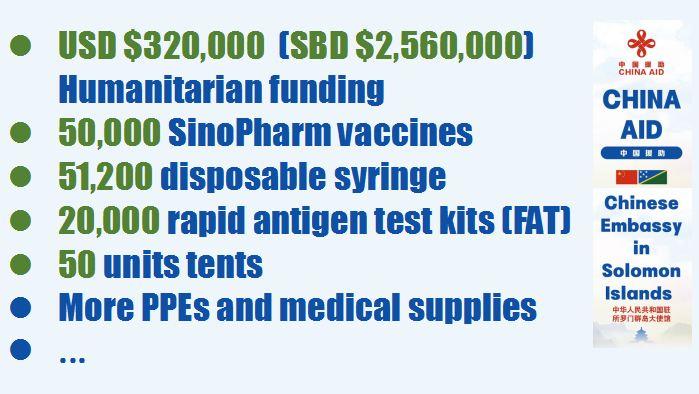 The Chinese government and people share empathy with the government and people of Solomon Islands for recent surge of COVID-19 cases in Solomon Islands.
After first daily announcement of newly confirmed cases by the Honorable Prime Minister Manasseh Sogavare, the Chinese Embassy in Honiara discussed anti-Covid 19 aid supplies with officials of the OPMC, MHMS and MFAET.
In a statement tonight, China says it stands firmly with Solomon Islands in its fight against the pandemic and in the past years and has provided hundreds of thousands of PPEs, helped build first PCR laboratory, established the first isolation ward at the National Referral Hospital, and shared China's knowhow.
It says at this difficult time, "we are sympathetic with those affected people and their families." China says it will provide urgent assistance to the government and people of Solomon Islands to help contain the spread of virus.
The first shipment of urgent assistance from China includes:
-Humanitarian funding of USD $320,000 (SBD $2,560,000)
-50,000 doses of SinoPharm vaccines
-51,200 packs of disposable syringe (with needle)
-20,000 rapid antigen test kits (FAT)
-PPEs and medical supplies
-50 units of 5*6 meter tent kits for field hospital's makeshift buildings.
The first shipment of urgent medical supplies will arrive next week by Chinese government cargo flight. The field hospital tent kits are to be shipped by sea shortly. And China stands ready to respond to further assistance requests of SI government.
"Let us join hands with full confidence, and work together for a shared future," the statement, said.
What you think?