CHARLES OLOVIKABO'S JOURNEY TO A MASTER OF LAW
By Dr. Tarcisius Kabutaulaka
At a graduation ceremony at the University of Hawaiʻi at Mānoa on Sunday, 14 May 2023, Charles Olovikabo was conferred with a Master of Law degree.
When his name was called, the young Birao lad from the highlands of Guadalcanal walked on to the stage with a broad smile. But the smile hides a trail of struggles with Solomon Islands' tattered education system. By the time he reached Form 7, Charles had been to six schools. It seems the education system was stacked against him.
This was compounded by the challenges of growing up in an isolated village in the hinterlands of East Central Guadalcanal. It is an enchanting place where high mountains hug deep valleys carved by meandering rivers that journey to the ocean, carrying stories from the island's heartland. Close by is Vatupochau, a sacred mountain inscribed with timeless stories. Charles spent his early childhood swimming and spear-fishing in rivers and playing in the forests.
But this seemingly idyllic place conceals a multitude of challenges: limited income-generating opportunities and hours of walk to access social services.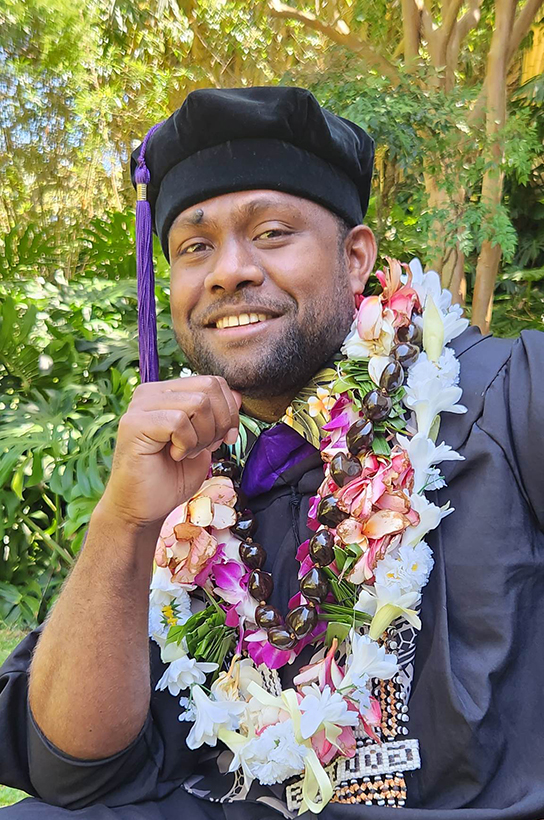 He started his education at Sanalumu Primary School near to his village. This was in the early 2000s during the social unrest when schools were regularly disrupted. He says there were "no trained teachers so from classes 1 to 5, our teachers were Form 3 leavers from the surrounding villages. We had a trained teacher at class 6 and he struggled with us."
He was lucky because his father, Richard Raesi, was a teacher and although his mother, Margaret Tai, was not well educated, she could read the Bible. "My parents helped me learn to read."
In 2006 he went to Susu Community High School for Form 1. It is about three-hours walk to the coast. "I stayed with relatives during week days and would trek up to my village on weekends." He then went to Boloale Community High School where he did Forms 2 and 3. "The school was new, so we spent a lot of time working to build the school." In 2009 he went on Su'u High School in Malaita where he did Forms 4 and 5. His musical chair with schools didn't end there. In 2011 he went to Honiara High School for Form 6.
Charles describes his year at Honiara High School as, "the worse year of my life. There were about 50 of us in Form 6 art. The classrooms were crowded, so if you arrived late you had to stand because there were not enough chairs and desks."
"Teacher absenteeism was also a problem. Because teachers were regularly absent, we were not covering the curriculum material we were supposed to cover. So, we used to ask our friends who were in Form 6 at St. Nicholas and King George VI schools for their notes and we would copy them."
At the time Charles was staying with an uncle at Burns Creek. "My uncle was kind to me, but it was not an environment for studying. There were always lots of wantok and people in the surrounding houses would play very loud music. I couldn't study."
He says another challenge was the bus fare. "I couldn't afford the bus fare so I often walked from Burns Creek to Honiara High School."
After a while, he and his friends opted to squatter at the school, sleeping on the floor and tables in classrooms. "We were not supposed to, but it was the only way we could study. We ate mostly noodles and rice, cooking with a water heater and a rice cooker, and sometimes over an open fire outside the classroom. By the end of the year, we were malnourished. There were five of us and three made it to Form 7"
"The terrible experience at Honiara High School made me determined to work hard and find a way out." In 2012 he went to KGVI for Form 7.
But after Form 7 he didn't get a scholarship. "I checked with my friends who had been awarded scholarships and realized I had higher GPA than them. I spent many days at the National Training Unit (NTU) appealing my case. After a while I wanted to give up." But during one of those trips to the NTU, his father accompanied him and they met the director. They were told the NTU had misplaced his transcript. Luckily, Charles had a copy.
He was eventually offered a scholarship to do a degree in law at the University of the South Pacific (USP) in Port Vila, Vanuatu. He was ecstatic.
After completing his law degree in 2016, Charles returned to Solomon Islands and did the six-month Professional Diploma Legal Practice at the USP campus. But afterwards he couldn't find a job in the legal field, so he worked as a security guide for the Manahena Travel Agent. It wasn't until mid-2018 that he was hired as an intern with the Law Reform Commission. In 2019 he was hired permanently.
In early 2022 Charles applied for the Project Governance scholarship administered by the East-West Center (EWC) to do a Master of Law at UHM. In March he received an email from the EWC. "My heart was pumping fast. When I opened it and saw that I had been offered the scholarship, I was overjoyed." But he kept the news to himself. His mother was sick in hospital so Charles feared the news of him leaving might affect her health. "When I eventually told my parents, they were happy and proud of me and told me this was why they had always wanted me to work hard in school."
He arrived in Honolulu, Hawaiʻi, in July 2022. "Everything was new to me. Honolulu is the biggest city I had ever been to." But he quickly settled in to his studies.
"School here is very different from USP. Here, there are no lectures. Instead, graduate classes are organized around discussions. You have to do a lot of readings, research and be prepared for the discussions because you are expected to contribute."
"Professors here interact with students in and out of class and treat you as adults. They make students feel they are part of the intellectual community. There isn't the hierarchy that we had at USP where professors come, lecture and leave."
Charles says he is indebted to many people who helped him on this journey. "Thank you to my parents who always supported me unconditionally. This degree is for them. Second, uncle Waeta Ben who continuously encouraged me and helped me get the internship with the Law Reform Commission. Also, thank you to my cousin Joyline Ben for helping me at Su'u. Thank you to my boss, Philip Kanairara, for his support."
He also thanks the Solomon Islands and Pacific Islands community in Honolulu "for the friendship and support in the nine months I have been here."
Asked if he has advice for young people, Charles says, "one can achieve anything if you put your mind and effort to it. If someone like me who grew up and started school in the remote highlands of Guadalcanal can do it, then it means you can as well."
For now, Charles will return to his job in Solomon Islands. But this Birao man has bigger goals. "I want to do a doctorate, preferably in political science."
This son of Solomon Islands came, achieved and will return. His name will be whispered by the tangina manu achi across the mountains and along the valleys of the place he calls home – the highlands of Guadalcanal.
~ # ~
What you think?