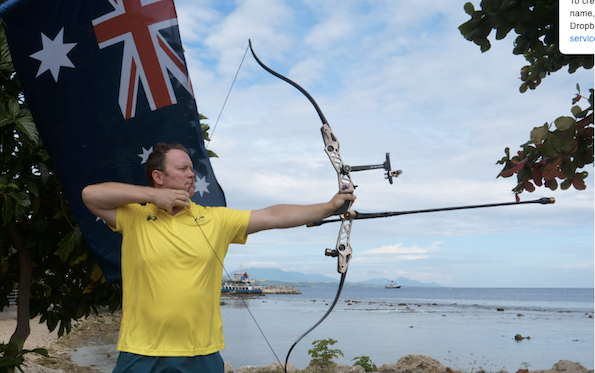 Dual Olympian archer Ryan Tyack will lead the Australian Team as Flag Bearer for the Opening Ceremony of the 2023 Pacific Games in Honiara, Solomon Islands tonight.
The 32-year-old has more than a decade of representing Australia at the highest level, including competing at Tokyo 2020 and winning bronze at Rio 2016.
sSPONSORED MESSAGE
Tyack will lead the team at tonight's Opening Ceremony, with the Australian Team marching alongside an estimated 3000 athletes from 24 Pacific nations taking part in the Opening Ceremony, which will also feature 3000 performers and 10000 spectators. 
Running from 19 November to 2 December, the Games will bring more than 5000 athletes and officials from 24 Pacific nations together in competition, with a 71-strong Australian Team competing across eight sports.
Chef de Mission for the Australian Pacific Games Team Kenny Wallace said Tyack was a great ambassador for Australia at the biggest multisport event in the Pacific region.
 "Marching into the Opening Ceremony, alongside thousands of our Pacific brothers and sisters, is a special moment for the entire Australian Team and I am thrilled to announce Ryan to lead the Australian Team as flag bearer," Mr Wallace said.
 "Ryan has represented Australia with distinction for more than a decade, and knows the importance of a positive team culture in multisport Australian teams.
"Congratulations to Ryan, his family, friends and the team at Archery Australia on a great achievement. I look forward to seeing Ryan lead the team into the stadium tonight and know the Team will feel all the support coming from back home.
The Mapleton, Queensland local said it is an honour to be able to lead the Australian Team into the Opening Ceremony.
"I'm so proud to represent my sport and my country in Honiara," Tyack said. "I'll try to take in the moment and appreciate the level of achievement for everyone there.
"The Pacific Games is 3500 athletes all there to do the best for their country and their families, I'm just so proud to be able to wave the flag for Australia."
Despite competing at the Rio 2016 and Tokyo 2020 Olympic Games, an Opening Ceremony will be a new experience for the archer.
"The archery competition started before the Opening Ceremony at Rio and Tokyo, so I haven't been able to march – the last time I did was way back in 2005 at the Australian Youth Olympic Festival. To have the chance to experience it as the flag bearer of this Pacific Games team is special."
 "Making any Australian team is such an achievement, and I love the experience of multisport teams – archers, weightlifters, boxers, whatever sport we're from we all know how much it takes to represent Australia and appreciate that in all the other athletes."
Tyack and his archery teammates have the chance to secure a quota for Australia in the Mixed Team event, on Tuesday 22 November.
Australian Team for the 2023 Pacific Games
·       71 athletes across eight sports – archery, athletics, beach volleyball, boxing, judo, sailing,  taekwondo and weightlifting
·       The team is led by Chef de Mission Kenny Wallace (Sprint Canoe – Beijing 2008, London 2012, Rio 2016) and Deputy Chef de Mission Amy Hetzel Jones (Water Polo – Beijing 2008)
·       The Pacific Games is a direct Olympic qualifier for archery (mixed teams event) and boxing
·       Strong world ranking points vital for Paris 2024 qualification in weightlifting, athletics and taekwondo
·       The Australian Team includes eight Olympians
·       The average age of the team is 22, with the youngest 16 and oldest 34
·       The team includes several athletes with Pacific heritage, including: Teremoana Teremoana (Boxing – Cook Islands); Tiana Echegaray (Boxing – Cook Islands), Korfoi Biu (Judo – Nauru); Eileen Cikamatana (Weightlifting – Fiji)
Competition for Australian athletes kicks off with Judo and Sailing tomorrow 20 November, with Australians competing across the following dates throughout the Games:
·       Archery –                   21-24 November
·       Athletics –                 27 November – 1 December
·       Beach Volleyball –    28 November – 2 December
·       Boxing –                     28 November – 2 December
·       Judo –                        20-21 November
·       Sailing –                     20 November – 2 December
·       Taekwondo –            30 November – 1 December
·       Weightlifting –          21-24 November
What you think?