Solomon Islands' welcomed the Pacific to Honiara last night in an epic and packed intriguing ceremony filled with cheers and emotional moments as PM Sogavare opened the 17th Pacific Games.
Solomon Islanders exhibited to the Pacific its own version of welcome influenced by its rich traditions and diversity blended with today's culture in a classic show in its first Pacific Games.

With thousands streaming early in the afternoon into the stadium, a sea of flags dominated by the green, yellow and blue was visible in the National Stadium before the sunset.
Under the theme, Umi Na Umi meaning "We and Us" intended to celebrate Pacific Islands unity and diverse culture. It started from Samoa's grand-entry and ending with Solomon Islands landmark entrance that drawn the biggest applaud, cheers, tears as the Go Solo Go music echoed at the background.
With a sea of green, yellow, blue streamed across the field, the stadium erupted into joy on its feet with the longest cheer for around 10 minutes as the hosts took centre stage.
"This is it," one cheering mother shouted. "Go Solo go," another cheered as tears coming down her eyes.
As for Sogavare, it was about Solomon Islands telling its story to the world.
"Tonight, we take the first step in telling our story to the whole world.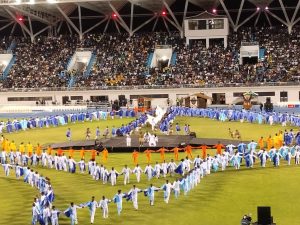 "The Pacific Games represents the true spirit of the Pacific. It showcases the very best in sport but it also plays a vital role in building economic, social, spiritual and cultural bridges.
"I would like to thank our partnership with key nations with significant contributions and sponsors that made this Games possible," Prime Minister Sogavare said.
More than 3,000 volunteers showcased the richness of Solomon Islands culture in three major performances: Nature in Harmony, Celebrating Athletes' Achievements, and Fountain of Hope.
Unlike many other countries that used a flame to mark the opening of their games, Solomon Islands turned to a fountain of water in place of a flame to go along with its green game theme.
Meanwhile, with competitions already started two days before the opening, it will now in full swing for the next two weeks across Honiara.
What you think?