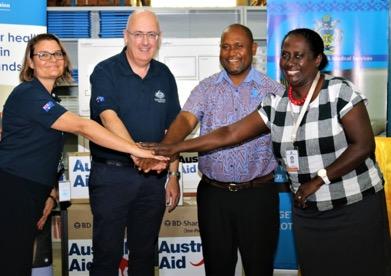 Now more than ever, as the COVID-19 Delta variant takes hold across the world, causing disruption, hardship and death, we need the media to do its job and report accurately.
The Solomon Star published an article on 30 July about the delivery of 50,000 Australian-made AstraZeneca vaccine doses to Solomon Islands. While acknowledging the delivery of the doses, the article implied that Australia was not administering AstraZeneca to its own citizens and said the vaccine was being 'off-loaded' in island countries like Solomon Islands.
Journalist Alfred Sasako contacted the Australian High Commission before this article went to print to verify these claims. The Australian High Commission informed Mr Sasako in no uncertain terms that these claims were false.
We pointed out that over six million AstraZeneca doses, manufactured in both Australia and the UK, had been administered across Australia since February this year. We noted that thousands of Australians have continued to get AstraZeneca jabs across the country, day in day out.
We further advised Mr Sasako that Australian authorities had strongly encouraged adults in Greater Sydney to get vaccinated with any available vaccine, including AstraZeneca.
Unfortunately, Mr Sasako ignored most of this quite categorical information. In doing so, he created an entirely false impression which both impugned Australia's good name and provoked doubt about the AstraZeneca vaccine.
'AstraZeneca remains an essential part of Australia's vaccine strategy', said the Australian High Commissioner, Dr Lachlan Strahan. 'More than 5,100 general practices are currently delivering AstraZeneca doses across Australia and the Australian Government is continuing to expand access to this vaccine.'
'Spreading incorrect or misleading information at this critical time, especially concerning COVID-19 vaccines, is irresponsible and dangerous', said Dr Strahan. 'This creates confusion and fear and feeds vaccine hesitancy, undermining our collective efforts to get our populations vaccinated.'
'We all know that we will only get out of this pandemic by vaccinating our populations as soon as possible', said Dr Strahan. 'Spurious and mischievous claims about vaccines simply put lives at risk. People must be given accurate information so that they can make informed decisions to protect their families, friends, workmates and neighbours.'
AstraZeneca is 92 per cent effective against the Delta strain. To date, Australia has delivered 63,000 AstraZeneca doses, manufactured by CSL in Melbourne, to Solomon Islands. It is also a co-funder of COVAX, which delivered the first consignment of 24,000 AstraZeneca doses to Solomon Islands in March.
Australia will provide additional AstraZeneca consignments as and when they are requested by the Solomon Islands Government. It will work closely with the Government and other providers of AstraZeneca, such as New Zealand and Japan, to ensure further doses are provided when they are needed and can be administered.
Australia has delivered over one million COVID-19 vaccine doses in total across the Pacific and Timor-Leste. Australia will continue to support the Pacific and Solomon Islands in the fight against COVID-19 for as long as is needed.
Statement Issued by the Australian High Commission, Honiara
What you think?