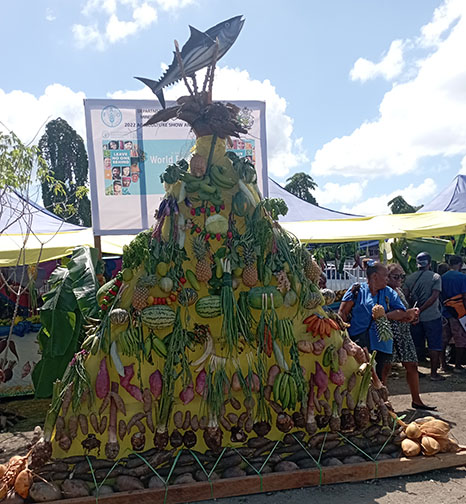 The 2022 World Food Day (WFD) and Agriculture show to mark this year's WFD begins today at the Town Ground Justice Ground.
The three (3)-day event which will conclude on Friday is hosted by the the Ministry of Agriculture and Livestock (MAL) in collaboration with The Food and Agriculture Organization of the United Nations (FAO) and other Stakeholders and Partners.
WFD is an annual international day usually celebrated on the 16th of October to highlight the millions of people worldwide who cannot afford a healthy diet and the need for regular access to nutritious food. MAL, on the other hand has decided to commemorate the event beginning today with the theme for this year's celebrations being:  "Leave No One Behind. Better production, Better nutrition, Better environment."
Permanent Secretary for Mal Mr. Lottie Vaisekavea praised local farmers for their hardwood, the private sectors for being part and partial of agriculture and also the Stake holders and NGOs for always contributing towards agriculture.
" [Also] All our aid donors and outside friends for always standing with Solomon Islands since before till now and to make sure that we continue to build our agriculture and making it relevant now"
"Everything is important and everyone is significant because we all together can contribute in our agriculture", said PS Vaisekavea.
Vaisekavea also said that the principle of the 3-day event is family and community.
The celebrations began with a colorful float parade in the morning from the Honiara City Council (HCC) car park to the Justice Ground in Town Ground.
"The event is a snapshot or sample of our lives in the agriculture sector but behind these activities is something more and we want the 'Something More' become a 'Something better' which we can celebrate for many years to come," said Mr Vaisekavea.
The celebrations also highlighted multiple global challenges, including the COVID-19 pandemic, conflict, climate change, rising prices and international tensions, with all of these affecting the global food security.
The 3-days program will also feature many interesting activities which includes food & product displays by local farmers, entertainments and also a Agriculture Pageant Show, with the public welcomed to be part of the celebrations.
News@SBMONline
What you think?