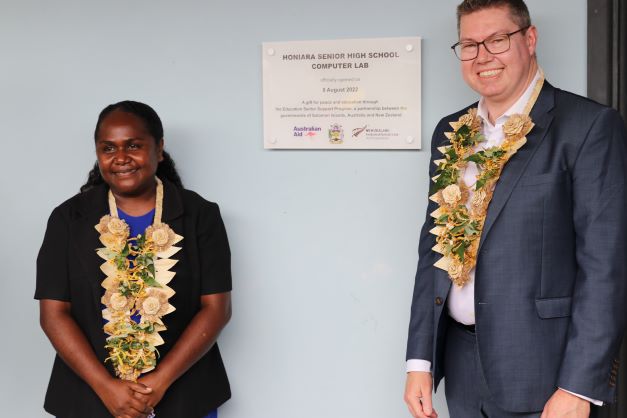 Information and Communications Technology (ICT) addresses challenges we face in accessing learning and teaching resources says the Minister of Education and Human Resources Development (MEHRD) Hon. Lanelle Tanangada.
She was speaking during the opening of the refurbished computer laboratory and the computers and accessories including, furniture and air conditioning system at Honiara Senior High School on 8th August 2022.
"I have confidence that this computer laboratory will play an important part in addressing some of the challenges we face in accessing learning and teaching resources. For example, it will familiarise learners with computers.
"Not only that but it will give learners access to information about the world, as well as encourage learners to read and use relevant and appropriate information obtained through the many websites that are related to subjects that students learn and to write their assignments," she said.
Minister Tanangada said the use of Information and Communications Technology (ICT) in education should not only focus on providing computer literacy, drill and practice skills, but also explore the richness of resource-based learning and creativity that ICT can offer.
"Using ICT enables learners to work with an assortment of resources, to learn through their experience of problem solving as they piece together information strands to construct meaningful knowledge about a subject."
She noted that information and communication technologies have opened a variety of possibilities for learning as we experienced during the school closures due to the impact of COVID-19 pandemic.
"We are a long way yet before all schools in our country can have access to computer laboratories and ICT in our schools. This is one of our great challenges. Nonetheless, we continue to invest in ICT in education."
Minister Tanangada reiterated that teachers too need to be supported through access to useful materials.
"They are pivotal to the improvement of the learning outcomes. I urge both students and teachers of Honiara Senior High School to visit our Ministry of Education website, particularly i-Resources, for a wide variety of digitalised educational and curriculum resources that we have made available."
The refurbished computer lab, administration block, a few classrooms and the ablution blocks were funded by the Governments of Australia and New Zealand through the Education Sector Support Program (ESSP) at a cost of $2 million. ESSP is delivered in partnership with the Solomon Islands Government and is funded by the Governments of Australia and Aotearoa New Zealand.
Most of these refurbished infrastructures were burnt during the November 2021 Honiara riots.
The school used to enrol 1,200 students but due to the pandemic and burning of the school, the enrolment this year has reduced to 868 students with 41 teaching staff and 10 ancillary staff.
Minister Tanangada appeal to the principal, teachers and students to look after the computers and make full use of the computers.
Hon. Pat Conroy, Australia, Minister for Defense, Industry and Minister for International Development and the Pacific and Hon. Peeni Henare, New Zealand Minister of Defense were also present during the handover of the refurbished computer laboratory.
Press Release
What you think?