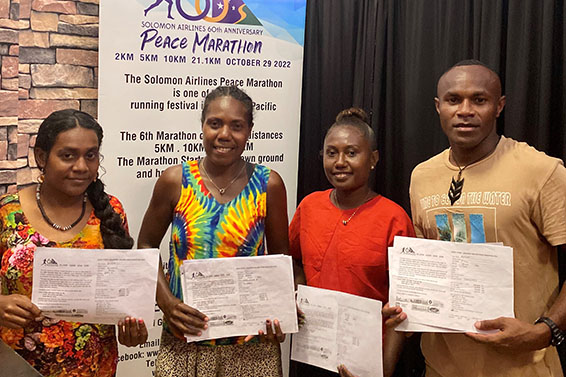 With just over a week to go to the 2022 Solomon Airlines Peace Marathon, and as registration numbers continue to build, one of the Solomon Islands' highest-profile athletes, Sharon Firisua has signed up for the 29 October event.
But she didn't do it alone – as part of their training programs, Sharon also brought along 30 youngsters from local athletics clubs to sign up, several of whom would be potential Pacific Games 2023 candidates.
Sharon needs no introduction to the people of the Solomon Islands.
Hailing from Malaita, she has represented her country at two Olympic Games, Rio 2016 and Tokyo 2020, and in August, competed at the Birmingham 2022 Commonwealth Games.
Sharon was also the first Pacific Islander to compete in an Olympic Marathon.
Add to this her Pacific Games record which includes four gold medals in long-distance running events.
She is no stranger to the Solomons Airlines Peace Marathon having won the 5km race in 2010, and the half-marathon in 2021.
Sharon's first activity in the tourism ambassador role will be to represent the national tourist office at this weekend's Solomon Airlines Peace Marathon.
In the bigger picture, her high profile as an Olympian and Pacific Games medallist has played a big part in helping to bring awareness to the Solomon Islands hosting of the 2023 Pacific Games from 19 November – 2 December.
What you think?