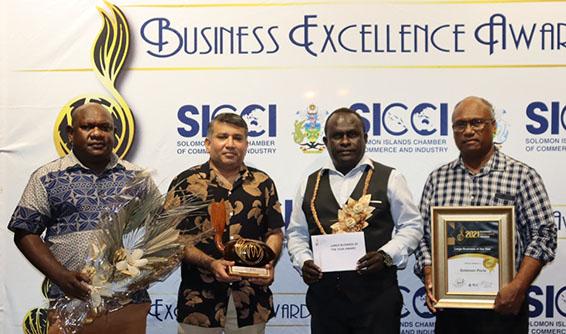 Solomon Islands Ports authority (SIPA), trading as Solomon Ports, has been awarded the prestigious 'Large Business of the year' award by Solomon Islands Chamber of Commerce (SICCI) during the annual Business Excellence awards on Saturday 20 November at the Coral Sea Resort, Honiara.
The Business Excellence awards is biggest awards event of the Private Sector in Solomon Islands and was initiated by SICCI with the support of the Solomon Islands Government in 2013 and has since been the premier event for Solomon Islands' business community.
This was SIPA's first time to enter the Business Excellence Awards since its inception and was selected as a winner amongst 54 other submissions.
The award was in recognition of SIPA's demonstration of excellence in service delivery, being a reputable employer and having a substantial impact in the country's business community this year.
Flanked by numerous successful developments in improving infrastructure, and overall service delivery despite the ongoing global pandemic instilled by Covid-19, SIPA has continued to be resilient this year. SIPA as one of the most profitable SOE's in the country and the Pacific region is proud to be truly local, with 99.9% of it's staff being Solomon Islanders.
SIPA prides itself as catalyst in facilitating growth in the country's private and public sector. Since the Covid-19 Pandemic emerged in early 2020, SIPA prioritized giving local businesses a shot at success, through increasing the number of contracts to locals.
This year SIPA has injected more than $150 Million back to the local economy in the form of obtaining services/ products, wages and community development and support to the Government.
Speaking upon receiving the award, SIPA's Chief Executive Officer Mr. Eranda Kotelawala said SIPA was excited, honored, and humbled to receive the award and recognition.
He said it was a journey of 65 years as the oldest and one of the largest SOE's in the country, SIPA's journey over the years to this year's success was both smooth and turbulent.
"This year we have made SIPA as one of the most successful and stable port in the region, it has come a long way, and thanks to the staff who have been with us in the past and still with us for their contribution to this success," he said.
"I would like to take this moment to thank everyone for their collective efforts, to make the Port of Honiara, and Noro as one of the most respected and most efficient ports in the pacific region."
Mr. Kotelawala said SIPA has achieved this with the support of its staff, stakeholders, customers, and the government. He said SIPA is continuing to build from strength to strength to establish itself as the region's top port and gateway to the world.
What you think?