Solomon Ports' newest pilot boat Bravo commissioned
In the midst of the mid morning sea-breeze Solomon Ports newest pilot boat Bravo pounds the small waves in the Point Cruz habour for a 10 minutes run to mark its official commissioning this morning.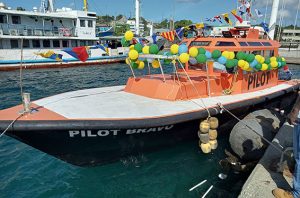 This new iconic boat was commissioned in a colourful event at the Solomon Ports by the deputy prime minister Manasseh Maelanga, who is also responsible for Ports.
Bravo, which is 12 metres in length, replaces Tandai. She will now serve Noro Port.
Bravo's key task is to facilitate pilots to incoming international vessels to safely dock at the international wharf.
Maelanga said Bravo will assist the safety of SIPA's pilots, habour staff and contribute to the safe passage of vessels into Honiara.
He praised SIPA that despite COVID-19, it continues to remain vigilant in both its investment and service delivery.
Maelanga said the arrival of the new boat will surely be a boost to SIPA's service delivery capability and install more confidence in customers and stakeholders in dispensing its services in Honiara.
SIPA Harbour Master Percy Biliki explained that most ports in the world require pilotage, the practice where a pilot comes on a board near the entrance of the port and then assists the ship's captain with bringing the the boat into port and docking or anchoring in the designated anchorage.
The pilot also helps provide safe passage when the ship departs.
Biliki further explained on arrival at the pilot station, the ship is met by a pilot boat where the speed of the ship is adjusted to 4 to 6 knots, depending on the capabilities of the pilot boat.
In this regard, the pilot boat, Bravo, will match the speed of the ship and come along side near the pilot ladder which is connected to an opening in the hull called a shell door.
Biliki said with Bravo, this will be an advantage because she is fitted with modern navigational equipment such as radar, echo sound and GPS plotter to assist the skipper of the pilot boat to match the ship's speed while running alongside for pilot transfer.
What you think?