Home
Breaking News
Solo into semis after Vanuatu withdraws due to COVID, decider against Tahiti
Solo into semis after Vanuatu withdraws due to COVID, decider against Tahiti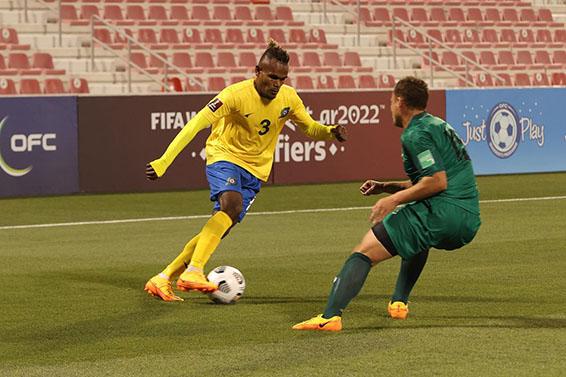 Solomon Islands secures a semi-final spot in the OFC World Cup Qualifiers in Qatar after Vanuatu announced it was withdrawing from the competition due to COVID-19 infection of its players.
With a win already secured against the Cook Islands and only two teams now left in the pool, the Bonitos are assured of a semi-final berth after Vanuatu's withdrawal.
The Vanuatu Football Federation Committee in a meeting today resolved that Vanuatu will withdraw from the competition. Cook Island's place in the pool too is been threatened after COVID-19 was detected amongst its players today so they will not field a team against Tahiti tomorrow.
Meanwhile, the VFF Executive convened this morning for an emergency meeting to respond to OFC and FIFA as to whether to continue the competition or consider to withdraw owing to the current situation facing the National Team of Vanuatu now in Qatar.
In a statement published on its FB page, the VFF said the Team was unable to participate in their first match due to majority of players were tested positive for COVID-19 on the day of the first match (17 March 2022).
"Subsequently, they have been informed that the vast majority of their players and officials have tested positive for COVID-19, evidenced by a PCR Test and the tournament regulation states that should less than 14 players who are covid19 negative, the concerned team cannot participate in a match," the statement, said.
Furthermore, it stated that similarly, under the Ministry of Public Health regulations for the State of Qatar Healthcare Protocol, the positive cases must isolate for a minimum period of 7 days.
"Vanuatu's next match day is in the next two days, on Sunday 20 March, and VFF do not have sufficient time to replace the players and officials. The current circumstances are beyond their control, therefore VFF has opted to withdraw from the competition. Therefore, the Committee resolved that Vanuatu will withdraw from the competition," VFF said.
What now for Solomon Islands?
Solomon Islands will play its crucial match against Tahiti on Thursday with the winner takes it all. This is after Cook Islands will not also field a team against Tahiti on Sunday after cases were detected in their camp. Tahiti will win by default.
Likewise, Solomon Island game against Vanuatu will be a default as its Melanesian neighbor had already withdrawn from the tournament due to COVID-19.
Depending on the outcome of the game between Tahiti and Solomon Islands, the winner will play the runner-up and second placed country plays the top team in the Group B which includes New Zealand, PNG, Fiji and New Caledonia.
News@SBMOnline2022
What you think?