Home
Local News
SIR DAVID LEAVES TO ATTEND CORONATION OF KING CHARLES III IN LONDON
SIR DAVID LEAVES TO ATTEND CORONATION OF KING CHARLES III IN LONDON
The Governor General His Excellency, Sir David Vunagi leaves the country on Wednesday 26 April to attend the Coronation of King Charles III in London.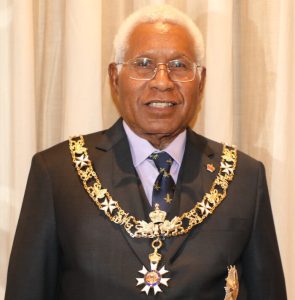 The coronation of King Charles III and his wife, Camilla, as king and queen of the United Kingdom and the other Commonwealth realms is scheduled to take place on Saturday, 6 May 2023, at Westminster Abbey.
Their Excellencies, Sir David Vunagi and Lady Mary Vunagi, together with the Minister of Foreign Affairs and External Trade are invited to attend the coronation ceremony by Buckingham Palace.
A statement from the Government House today said under the Constitution of Solomon Islands, His Majesty King Charles III, becomes the Head of State of Solomon Islands after the passing on of the Late Her Majesty Queen Elizabeth II on 8 September 2022.
Solomon Islands, therefore, is a constitutional monarchy, which is a form of government by which a hereditary sovereign becomes the head of state. As a result, the current monarch is officially titled King of Solomon Islands.
The head of state performs his functions under the Constitution through his representative, the Governor-General of Solomon Islands. In performing his functions under the Constitution, the Governor-General, ensures there is continuity, a stable and a non-partisan Government in place in Solomon Islands.
The Coronation of Their Majesties The King and Queen Consort will be a once-in-a-generation event – the first in almost 70 years. A splendor of pageantry and celebration will be on display in a religious ceremony that has remained largely unchanged for a thousand years. The Coronation ceremony will be conducted by the Archbishop of Canterbury.
For Solomon Islands and the United Kingdom, the Coronation ceremony represents a constitutional and cultural moment of great significance. It will be a unique experience for the Realm, the Commonwealth and International audiences.
"For Solomon Islands, the coronation of HM King Charles III, will be the first Coronation of the Head of State of Solomon Islands that we will witness after we gained our Independence. The late Queen Elizabeth II coronation was on 2 June 1953, twenty five years before we gained our Independence from Britain in 1978," the Statement said.
Their Excellencies are scheduled to arrive in London on 1 May. On 5 May, Their Excellencies will attend to the King's Luncheon and reception for the Realms and overseas representatives. On 6 May, they will attend the coronation ceremony and will return on 8 May.
King Charles III visited Solomon Islands in November 2019 when he gave his speech in pidgin to the joy of the crowed that attended at Lawson Tama stadium.
King Charles III also reigns over 14 other countries in addition to the United Kingdom as the Head of State. Those countries include Antigua and Barbuda, Australia, Bahamas, Belize, Canada, Grenada, Jamaica, New Zealand, Papua New Guinea, Saint Kitts and Nevis, Saint Lucia, Saint Vincent and the Grenadines, Solomon Islands and Tuvalu.
ENDS///
What you think?