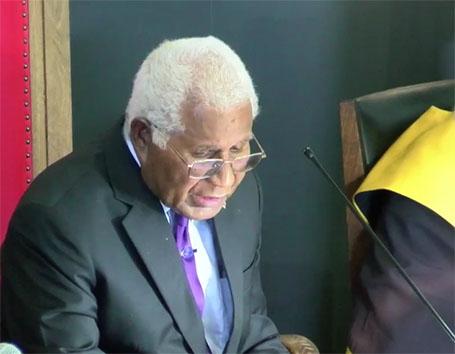 The Governor General Sir David Vunagi has conveyed his appreciation to the country's frontliners against covid-19 for their tireless efforts that so far stopped the spread of the virus into our communities.
In addition, Sir David applauded the Prime Minister and Cabinet Ministers for leading and skillfully navigating our way safely through these perilous and unprecedented times.
"Our frontliners are heroes. They are the ones standing between all of us and the virus. They have truly put their lives on the line so that we can live ours in comfort. My gratitude to you all," Sir David said in his Speech from the Throne to open Parliament today.
He also thanked the Covid-19 Oversight Committee, Camp Management, National Disaster Management Office, health workers, police and correction officers, immigration and customs officers and all others who have in one way or the other kept our beloved country safe.
"Our resolve to keep our country safe must be unshakeable. We must continue to unite in our fight against COVID-19" Sir David said.
ENDS///
What you think?