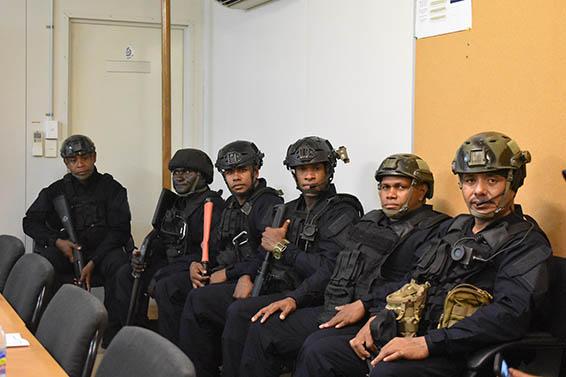 Officers of the Police Response Team (PRT) of the Royal Solomon Islands Police Force (RSIPF) today (13 November 2020) received a new set of operational uniforms from the Australian Government through the Solomon Island Police Development Program (SIPDP)during a brief ceremony at the Rove Police Headquarters in Honiara.
Receiving the uniforms on behalf of the RSIPF, Minister for Police, National Security and Correctional Services, Hon Anthony Veke said, "Gifting of these uniforms from our partner, the SIPDP comes at the right time. Our PRT is our only police tactical unit and it is important that the officers in the unit are well equipped, well trained and fully operational to meet the security needs of our people and our country. Our police force in general must continue to earn and gain the confidence of our people through the professional work that officers do."
"The PRT officers deserve a change of uniform as they continue to deal with major security operational matters including their monthly deployment to the western border with Papua New Guinea. I want to thank the Government of Australia through SIPDP for donating this set of new uniforms."
"I request officers that will be wearing these new uniforms to wear them with respect and with much professionalism. The uniforms are not cheap and have a lot of disciplined connotations tied to it therefore I urge you again that you use your uniforms professionally to continue building up the confidence of our people and our country," said Minister Veke.
When presenting the uniforms Commander of SIPDP Mark Ney explained, "The uniforms are to support the PRT as they increase in their numbers. I know with the new uniforms PRT will maintain its professionalism as they perform their duties to protect the people of Solomon Islands."
He said, "I want to encourage officers to wear your uniform with pride as you continue to serve your country and the RSIPF."
RSIPF Commissioner Mostyn Mangau said, "RSIPF is increasing the number of its PRT officers as the only tactical unit in the RSIPF. The specialist uniforms including the boots cost AU$75,000.00. They will be worn by members of the RSIPF Police Response Team, Operational Safety Training Team and the National Response Department Armourers."
"I want to thank the SIPDP for their continuing support to the RSIPF especially during this time of the global COVID-19 pandemic," said Commissioner Mangau. //End//
What you think?