SIPA says prep for 45th PMTA in Honiara well on track
With just over a month to go, organisers of the 45th Pacific Maritime Transport Alliance Conference are confident of hosting a successful event in Honiara in July.
Solomon Ports will be hosting the conference for only its second time in 28 years and will run from July 11th to 13th at the Heritage Park Hotel.
The annual ports conference was supposed to be held in 2020 here but was deferred due to the covid-19 pandemic.
PMTA Solomons committee chairman Donald Taona told the media today that his team has been working hard and everything is in place for the conference.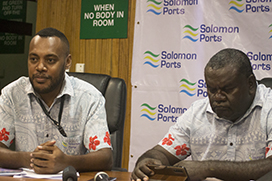 Sei, left, and Tanoa today at the press conference
This year's conference theme is "Climate Change- Sustainability and Resilience of Pacific Ports".
Hosting the event will increase Port's profile in the region and also Solomon Islands' ability to host big regional conferences, added a member of the committee, Lowen Sei.
Liaison officer Suellen Teferomu confirmed that more than 50 delegates are expected and they come the region and beyond.
Taona said the conference is also a learning experience for the visitors and the host.
"It's a two way learning experience for all of us. They learn from us and we learn from them," he said.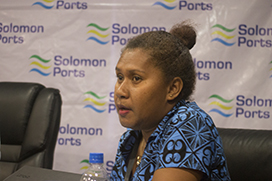 Liaison officer Suellen Teferomu
High profiled speakers are lined up to grace the conference; amongst them is Mike Gallacher, the Chief Executive Officer of Ports Australia.
Gallacher will bring his wealth of knowledge and experience to bear on some of the most pressing issues facing the maritime industry today. His insights and perspectives are sure to be a highlight of the conference, and attendees can look forward to an engaging and thought-provoking presentation.
The Secretary General of International Association of Ports Habours (IAPH) Dr. Masahiko Furuichi will also be amongst the speakers.
Solomon Islander and SINU Vice Chancellor Dr Transform Aqorau will be the moderator for the keynote session on the theme: Climate Change- Sustainability and Resilience of Pacific Ports.
In the session, the panellists will explore the effects of climate change on the Pacific ports infrastructure and the challenges faced by the industry.
If you want to find out more details about the conference here is the web add: https://pmtasolomons.com/
What you think?