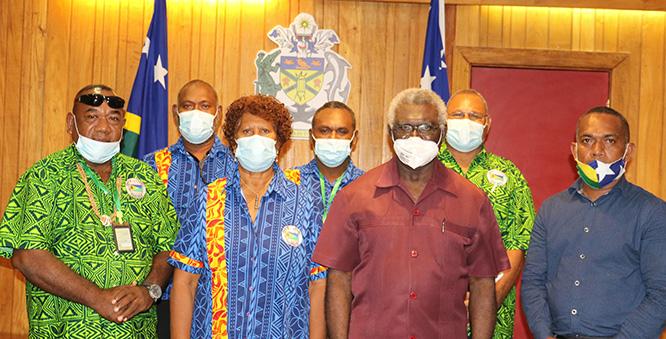 The newly elected Premier of Isabel Province and the country's first female Premier, Rhoda Sikilabu, and her executive today visited Prime Minister Manasseh Sogavare in his office.
During the brief courtesy call, Sikilabu reaffirmed her executive government's support to the national government.
She pledged to implement government's policies relating to the strengthening of the provincial governments.
Sikilabu affirmed that to be effective agents of the national government, her new executive must get its instruction from the government of the day.
She also acknowledged that her executive as an agent of the national government aligns itself to the national government policies.
"My government is in support of the state government system," she adds.
In response, Prime Minister Manasseh Sogavare congratulated Mrs Sikilabu on her election victory to become the first female premier.
"Thank you for acknowledging your position as agent of the National government," said the Prime Minister.
Sogavare assured the Isabel Premier of government's support to Isabel Province to ensure it becomes an effective agent of the national government.
Sogavare also acknowledged the social and economic contributions of Isabel Province to the national growth of the country.
He told the new Isabel Provincial executive (as he told all other provincial executives), his office is open whenever advice is needed.
End///.
OPMC PRESS RELEASE
What you think?