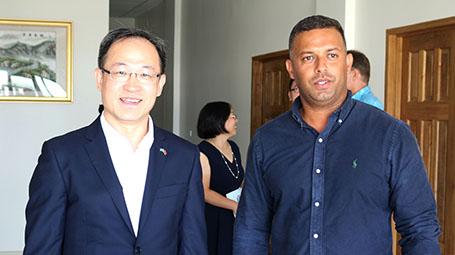 Tuesday 27 October, Honiara – Representatives from the Solomon Islands Chamber of Commerce and Industry (SICCI) led by Board Chairman Jay Bartlett on Wednesday 21 October paid a courtesy visit to the Ambassador of the Peoples Republic of China (PRC) to Solomon Islands, His Excellency (H.E) Li Ming.
"As the peak body presenting private sector in the country the Chamber believes it is important that we maintain meaningful engagement and communication with all our development partners," a SICCI statement said.
"Especially during this time when the impacts of COVID-19 are posing both a health and economic crisis, collaboration is the way to go in balancing risks and opportunities for our country. And this is the basis of the Chamber's engagement going forward," the statement added.
SICCI Chairman, Mr Bartlett congratulates His Excellency Ambassador Li Ming on his appointment as the first Chinese Ambassador to Solomon Islands since the establishment of bilateral ties between the two countries in September 2019.
"There are certainly opportunities and also concerns with the potential of investment coming in and how best we as a country, can manage the business relationships that will result in a win-win for both PRC and for Solomon Islands," he said.
Accompanying the Chairman during the courtesy call were SICCI Chief Executive Officer (CEO), Ms Natalina Hong, Vice Chairman, Ricky Fuoo and Board Members Bob Pollard, Qila Tuhanuku, Hilda Lamani and Martin Beattie.
SICCI looks forward to a video conference at the end of this month with our counterparts from the Chinese International Chamber of Commerce.
SICCI, as the peak body representing private sector in Solomon Islands, believes this is a good opportunity to look at how both Chambers can link business to business connections and how to manage these connections.
"We look forward to building cooperation on an economic level while on the political front, as a Chamber we always support good governance and good policy that improves the livelihood of our people and enables economic growth," Mr Bartlett said.
Mr Bartlett reiterates PRC has been an important trading partner for many decades, but the long existing trade is one that has based on a single export commodity, round logs.
"Now that we have this bilateral relationship between our two countries, we can explore some other sectors that will be beneficial for our economies," he said.
SICCI believes that as a country, Solomon Islands needs to work towards broadening its economic base by developing new sectors to create a sustainable and robust economy. Sectors like Agriculture, Fisheries and Tourism have huge potential to tap into the Chinese market which would help accelerate the growth of our local industry.
Unemployment is a huge concern for the Chamber and maintained that Solomon Islands needs an economy that can create jobs and other opportunities for our fast-growing population.
"This is where we can use this relationship to think strategically on what key areas we can cooperate on and work towards achieving the maximum benefit for both Solomon Islands and PRC," the SICCI Chairman said.
Ambassador Li Ming acknowledged SICCI for the interest expressed in developing relationships with counterparts from the Chinese International Chamber of Commerce.
"I look forward to more cooperation and advice from SICCI on how we can further promote our relationship and happy to note that your Chamber is representative to a range of different groups in the private sectors.
"The practical and most important thing to do is find the cooperation and ways to benefit both our peoples," the Ambassador said.
-SICCI Media
ENDS///…WITH PHOTOS
Captions:
PHOTO 2: SICCI Board Chairman, Jay Bartlett and Ambassador of the Peoples Republic of China (PRC), H.E Li Ming having a conversation following the courtesy visit.
What you think?