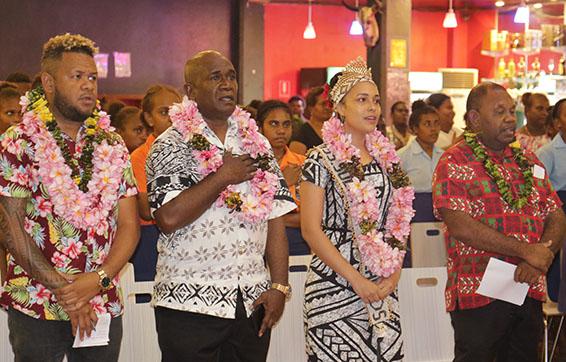 Minister for Provincial Government and Institutional Strengthening (MPGIS) Hon. Rollen Seleso, MP has encouraged provincial schools to take part in the annual National Oratory Speech Competition.
Minister Seleso made the comments following the successful National Oratory 2020 Speech Competition that was held in Honiara this week.
The Minister was one of the guests during the event.
Minister Seleso said he was impressed with how the students presented their speeches on the different topics.
The Minister stated that the display of confidence in public speaking by the students that presented their speeches in front of the audience was exceptional.
"I can see potential leaders and I encourage schools not only in Honiara but in the provinces to take part in this competition next year," he said.
Hon. Seleso further stated that it also shows how well students have been mentored and well prepared for this event.
"The level of research and the discussions on the speech topics was of high standard," he said.
"This is an event that will boost the confidence in public speaking for our future leaders."
He said that such event would also encourage students to do more research on issues and broaden their knowledge on the diversity of issues.
The Minister was also impressed with two provincial schools Waimapuru NSS and Tenakoga AHS for their outstanding performance, which gave the Honiara based schools a good opposition.
Mr Seloso said the Government will also look at ways to assist such events in future.
The winners of the 2020 National Oratory Speech Competition are Miss Alysha Puia of King George VI School (Junior Category), Eric Lee of Waimapuru NSS (Intermediate Category) and Ronan Sese of Tenakoga Adventist High School (Senior Catergory).
What you think?