Saunders present gifts to Consulate-General Office in Brisbane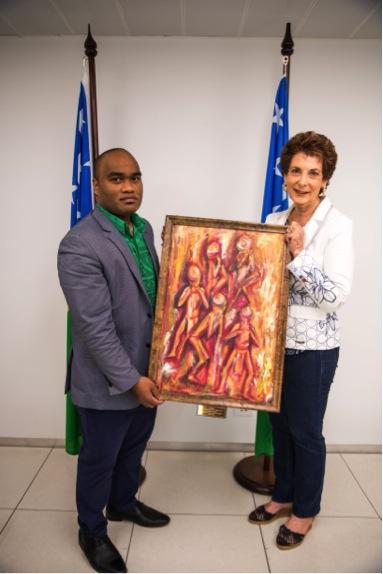 Well-known Solomon Islands figures Sir Bruce and Lady Keithie Saunders had recently paid a courtesy call on the Consul-General of Solomon Islands to Australia, Mr Kereta Sanga, to present gifts for the Consulate-General Office.
Sir Bruce as Chairman of the Solomon Scouts & CoastWatchers (SSCW) Trust presented a SSCW figurine and 'Solomon Islanders in World War II' books by Solomon Islander Anna Annie Kwai.
Sir Saunders said he felt it was important that the Consulate had the books and the figurine as they told of the significance of Solomon Islanders contribution locally during World War II.
Lady Saunders presented framed canvas paintings from local artists, Mr Riaz Maninga, and Mr Emanuel Wainini from her personal collection and said that she wanted to help with the décor of the office.
Consul-General Sanga was pleased to receive the gifts and thanked the Saunders for their thoughtful contribution to the office set up.
Mr Sanga said the gifts would be used to tell visitors of Solomon Islands history while also showed the contemporary nature of Solomon Islands art.
The Saunders were in Brisbane for a short trip but had since returned home to Honiara.
– Press Release from MOFAET with minor edits from SBMOnline-
What you think?