Rain is expected to stop tomorrow but only for a few days says MET chief
The current bad weather experienced in the country is expected to continue until tomorrow afternoon where it is projected to stop. But the Director of the Solomon Islands National Meteorological Services David Hiba Hiriasia explains to SBMOnline that the fine weather is estimated to last just between two to three days then "we return to the cycle" again.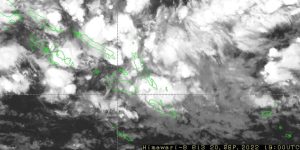 Honiara has since Sunday been tormented by heavy rain and strong wind causing destruction to some homes and trees were uprooted in some parts of the city.
So what causes the bad-weather?
Hiriasi explains that: "It just a typical dry season weather but tradewinds/ara is strong because of La Nina conditions."
He states that La Nina has caused strong trade winds and that pushes warm water over Solomon Islands and PNG areas causing more rain-fall for "us".
Asked about when the rain is expected to stop, Hiriasi says if it rains today then tomorrow afternoon it should stop but after two to three days of fine weather "we wil back to the cycle" again.
What you think?