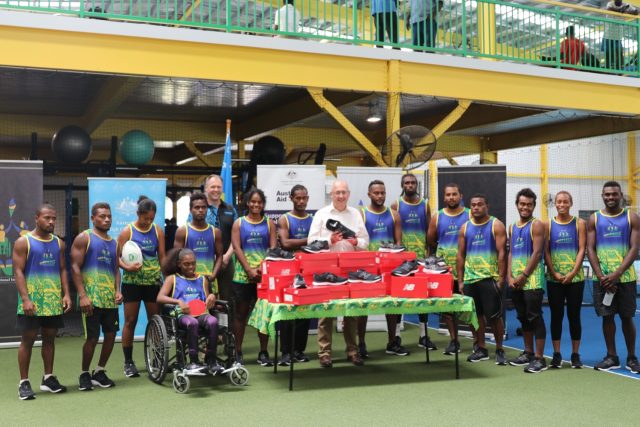 Australia has provided 850 pairs of new training shoes to every athlete in the Solomon Islands national squad preparing for the 2023 Pacific Games.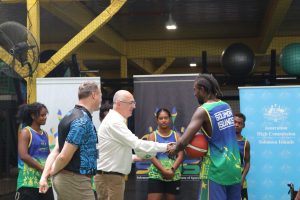 The 2023 Pacific Games are an important event for Solomon Islands and the Pacific region.
Australia is committed to helping ensure the 2023 Pacific Games are a success and leave a positive legacy for Solomon Islands. Australia has already committed to providing approximately SBD 100m in support for the 2023 Pacific Games, including for accommodation, equipment, and other facilities to assist athletes competing at the Games.
Our PacificAus Sports program is assisting the Solomon Islands National Institute of Sport (SINIS) to create a high-performance environment for Solomon Islands athletes through the provision of elite training and gym equipment.  Australian Volunteers are working at SINIS, training athletes and building capability among trainers and coaches.
Australia's gift of 850 pairs of training shoes, handed over at an event at the Solomon Islands National Institute of Sports (SINIS) on 16 September, complements this existing and significant support.
The Australian High Commission worked with SINIS to identify the most critical needs for athletes training for the Pacific Games. Ensuring every athlete has high quality footwear quickly emerged as an obvious requirement.
High Commissioner Dr Lachlan Strahan said, 'Australia and our Pacific family share a rich history and deep love of sport.  I was delighted to meet some of the Solomon Islands team preparing for the 2023 Pacific Games, and to handover these shoes to be used in training'.
'As well as infrastructure, Australia is providing essential equipment and personnel to deliver the training required for the Solomon Islands national team', said Dr Strahan.
'In 2023, I be barracking for two teams – Australia and Solomon Islands', said Dr Strahan.
Aaron Alsop, Executive Director, Solomon Islands National Institute of Sport high performance project, said 'On behalf of the athletes who train at the Solomon Islands National Institute of Sport, we would like to thank the Australian High Commission for their contribution.'
Mr Alsop said, 'The provision of quality shoes for the athletes on scholarship at SINIS supports an aspect of their training that is often neglected. This donation is greatly appreciated.  It will help 850 athletes at SINIS get ready for the Games.'
The grant was awarded from the Pacific Sports Diplomacy Fund, managed by PacificAus Sports.
What you think?