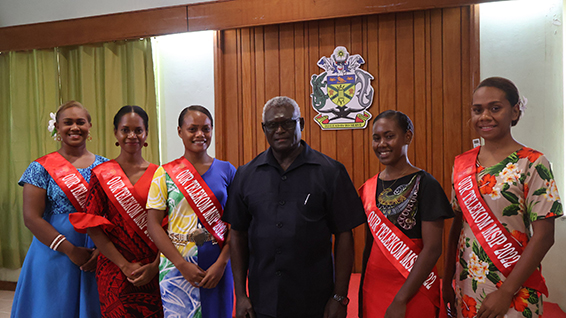 Prime Minister Manasseh Sogavare this morning received five of Our Telekom Miss Solomon Islands Pageants who are vying for the Miss Solomon spot.
The five pageants were led by Solomon Host Chief Executive Officer (CEO) Joyce Konofilia.
The contestants were given the opportunity to ask questions to the Prime Minister who has taken the pleasure to provide answers to all their questions.
The young girls asked questions on issues ranging from domestic violence to gender balance in decision- making.
The Prime Minister encouraged the contestants to do more in the respective topics that each were given.
PM Sogavare also expressed his gratitude to Miss Solomon Islands Pageant Show for providing the platform for young girls to engage in and promote issues of national interests.
OPMC Press
What you think?