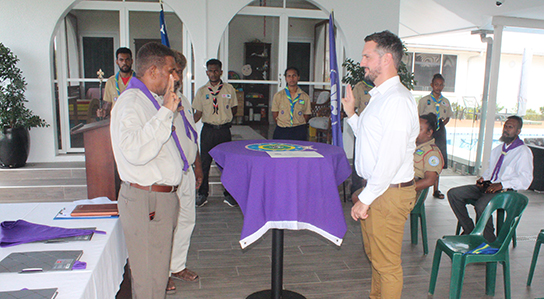 Four new Commissioners for the Solomon Islands Scout Association.
The Solomon Islands Scout Association appointed four new commissioners this week.
The British High Commissioner to the Solomon Islands and Nauru, H.E Thomas Coward was appointed as International Commissioner.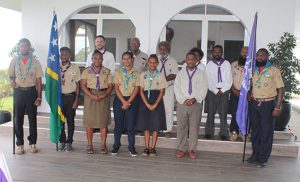 Shona Fafale was appointed as the National Growth Coordinator, Frank Samui appointed as the Scout Commissioner for Temotu Province and Robert Au who was appointed as the National Secretary to the Scout Council.
Shona, a local Artist and a graduate in Tourism Hospitality, was inducted into her role with the Asia Pacific Regional Office in Manilla last year and will now continue her work in the Solomon Islands Scout Association.
Frank Samui of Temotu Province is a legal counsel, appointed as the Provincial Commissioner responsible for development of Temotu provincial Scout Branch. This is the second appointment of provincial branches after Western Province took up the first initiative to re-establish Scouting in the provincial centres.
Robert Au is a former Scout Leader and present General Secretary of the Solomon Islands Public Service Employees Union.
Chief Commissioner of Scout Joe Billy Oge welcomed the new commissioners to the world brotherhood of scouting, saying:
"Scouting membership as of December 2021 is 525 inclusive of young people and adults. We want to double our growth and provide more attractive programs to the young people across the Solomon Islands. We are still convinced and believe that scouting has a place in the processes of our children and young people's development."
Newly appointed International Commissioner of the Scout Movement in Solomon Islands, Thomas Coward said:
"I have been in this Scouts for over 30 years. I know the huge value that being in the scouts can have for young people. It can help kids learn, develop and grow."
Shona Fafale who joins the Scout movement as Growth Coordinator said:
"My immediate task now is to ensure that our numbers grow annually by reaching out to young people in our communities and schools across the country to join the Scout movement. I know it will be challenging but we are getting there when we work together."
The Oath of Office ceremony was administered by the office of the Chief Commissioner before the President of the Scout Council Mr. Wilson Mamae, assisted by the Chairman of the Scout Council Mr. William Barile and National Commissioner for Training Mr. Edward James Anisi.
The appointments were approved by the Scouts Council and signed by His Excellency the Governor General and Chief Scout of Solomon Islands Sir David Vunagi.
The Solomon Islands Scout Association was accepted as a Member Organisation of the World Organisation of the Scout Movement (WOSM) with voting rights on 30 March 2021. It became the 172 member organisation of WOSM on 30 June 2021.
-ENDS-
British High Commission Press Release
What you think?