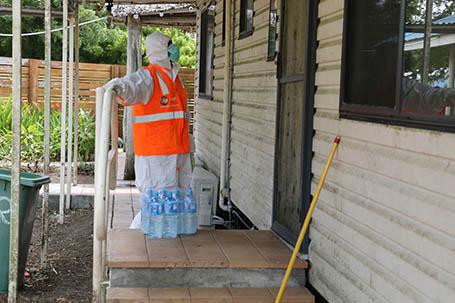 At the moment, only 36 persons are undergoing quarantine at the government-managed Quarantine Stations.
This batch is from the recent Brisbane flight on 15th September. Majority of the passengers (64) entered the country under exemption and are accommodated in approved diplomatic Quarantine Stations, monitored by the Ministry of Health and Medical Services (MHMS).
The Camp Management Sector Committee and supporting government agencies and stakeholders are bolstering preparations for the upcoming flight from Philippines.
"Vacated stations are being decontaminated, cleaned and resourced with hygiene kits.
"Philippines is a high risk country in terms of COVID-19, and we must be well prepared to accommodate and care for our returning students," a statement from National Disaster Council (NDC) said.
The statement adds that an operational exercise (Eksasaes Aelan Chek) coordinated by NDC's Emergency Operations Centre will be conducted this week for N-DOC Committees and Royal Solomon Islands Police Force (RSIPF) to retest their response mechanisms as part of preparations for the upcoming flights.
NDC also clarify that this exercise does not involve a lock-down of Honiara.
"It is only an exercise," it said.
Ends////
With photo
Caption: A National Emergency Response Team member of the Camp Management Sector Committee distributing water bottles to returning nationals undergoing quarantine for 14-days at Guadalcanal Beach Resort.
What you think?