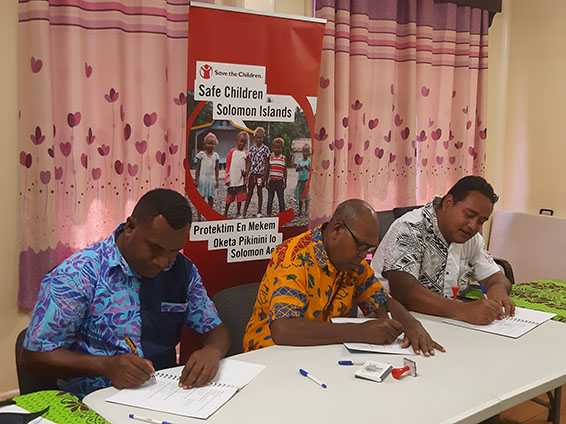 Save the Children in partnership with the Provincial Governments of Guadalcanal, Malaita, Western and Choiseul Provinces and in collaboration with the Ministry of Women, Youth, Children and Family Affairs (MWYCFA) are working towards strengthening provincial structures for child safety and protection.
A Memorandum of Understanding was signed on Wednesday 24th August between the Guadalcanal Provincial Government, Ministry of Women, Youth, Children and Family Affairs (MWYCFA) and Save the Children to implement the establishment and functioning of the Children Development Desk role within the province. The inclusion of the Children Development Desk Officers is a milestone for the Provincial Government, and children and families as this will support the ongoing efforts of raising children's voices at the Provincial level and addressing the needs of children in our provinces and communities. Speaking during the MoU signing event, the Provincial Secretary for Guadalcanal Mr. Timothy Ngele stated that "Guadalcanal Provincial Government is happy to accommodate the CDD officers and to partner with organizations to address the needs of the province". He also stated that "the province is addressing children's needs and it is important to ensure children are protected and their rights are strengthened from a holistic approach". Mr. Alphonse Botu, Children's Development Division Coordinator, representing the MWYCFA said that "embedding of the CDD officers at the provincial level will greatly improve the work of Children's Division as previously these roles were included into the Women's Development Desk officers where sometimes it is difficult to progress the work of the Children's Division".  Fredrick Seni, Director Program Development and Quality for Save the Children said that "the organization is happy to be partnering with the Provincial Government in collaboration with MWYCFA to progress the work of addressing the needs of children especially on child protection and child rights and elevating the voices of children from the provincial level to the national level".
The Children Development Desk Officers position is funded Australian NGO Cooperation Program (ANCP) a four-year project implemented by Save the Children in Guadalcanal, Malaita, Choiseul and Western Provinces. The overall goal of project is "Children in the Solomon Islands are safe and protected from violence and ensuring that systems for Child Protection are in place, resourced and effective"
Singing of MoU for Malaita, Western and Choiseul Provinces will follow.// Ends
What you think?