New Bridges in Su'u Harbor and Bira Moving Ahead
Work on the Su'u Harbor and Bira bridges on the South Road in Malaita are moving ahead under the Second Solomon Islands Roads and Aviation Project (SIRAP2).
Su'u Harbor bridge was destroyed by logging trucks in 2017. The logging company then created a temporary bridge in its place but this is now in serious need of replacement. In Bira, vehicles have been using a stream for crossing; however, the crossing can be unreliable, unsafe or not passable during floods and high tides.
A design and supervision consultant to the project, Egis Asia Company Limited, has completed the bridge designs and plans and final tender documents are now being prepared. Following their final report, a construction contract is expected to be signed in early 2024.
The new bridges will make travel, trade and connections easier for families and businesses in Malaita on the South Road and in West Kwaio and West Are'Are.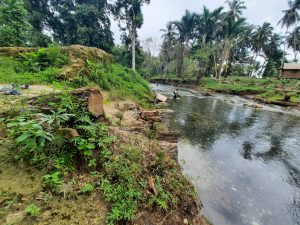 The new bridges are part of the SBD1.1 billion SIRAP and SIRAP2 being implemented by the Ministry of Communication and Aviation and the Ministry of Infrastructure Development and financed by the World Bank. Work under SIRAP and SIRAP2 is delivering important upgrades to selected roads and bridges across the country while working to make airports safer, more efficient, and more climate resilient.
Permanent Secretary of the Ministry of Infrastructure Development, Stephen Maesiola said these bridges will provide more reliable access to markets and health and education services while ensuring Malaitans are better connected. Maesiola said, he was proud to see this work being carried out through the Ministry and thanked the World Bank for funding the bridges alongside the rest of SIRAP and SIRAP2.
SIRAP2 is also constructing new bridges (Kolofe1, Kolofe2) on North Road in Malaita, upgrading roads in Noro, providing upgrades to Honiara and Munda Airports and Santa Cruz (Lata) Airfield, providing investments in air navigation systems in Makira-Ulawa and Temotu Provinces, and supporting regional airport maintenance.
End//
What you think?