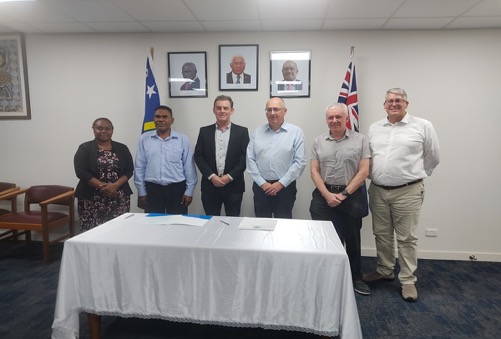 A Memorandum of Understanding was signed at the MFAET office on Thursday (20th October 2022) between Australia's High Commissioner, Dr Lachlan Strahan and the Commissioner of Lands, Alan Mcneil signifying the formalization of work to swap the current land housing the Australian High Commission at Hibiscus Avenue with a government land at Lengakiki.
Under current arrangements, the Australia High Commission (AHC) is occupying two separate physical venues with the Chancery at the Hibiscus site and the Annex at Heritage Park compound.
Discussions were held by both sides which culminated in the signing of the MOU on Land Exchange.
Under the terms of this MOU, AHC will surrender the Hibiscus Avenue site to the Commissioner of Lands and relocate to the new chancery site.
MFAET's Assistant Secretary, Pacific and Regional Organizations Desk, Janice Mose said it is a government commitment to provide Australia with land to enable them to build a home and work with the Solomon Islands on our shared principles and further our mutual interest and development objectives.
By assisting Australia in this request, Solomon Islands as host country has shown its commitment to upholding its obligations under the Vienna Convention on Diplomatic Relations to provide countries with an embassy on the ground in Honiara, adequate space for them to conduct diplomatic and bilateral relations with the country.
Australia's High Commissioner to Solomon Islands, Dr Strahan reiterates the importance of Solomon Islands as a development partner to Australia and is thankful to the two countries Ministry of Foreign Affairs as well as the Solomon Islands Commissioner of Lands for assisting in moving this project forward.
Commissioner of Lands, Alan Mcneil said after the MOU, a grant instrument will be signed and a formalization of the land title as a 75-year fixed term estate to be registered under the name of the Australian government. Once the move is completed within a four-year period, property and land at Hibiscus Avenue will be transferred back to Ministry of Foreign Affairs and External Trade.
MFAET Press
What you think?