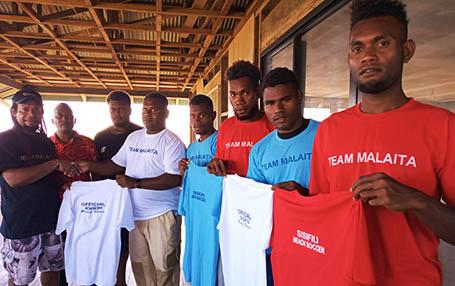 TWO Kwai Island-based Beach Soccer teams that are representing Malaita province in the Solomon Islands Football Federation (SIFF) Invitational Beach Soccer Championship 2020 which is set to kick-off tomorrow, have received timely t-Shirt assistance today.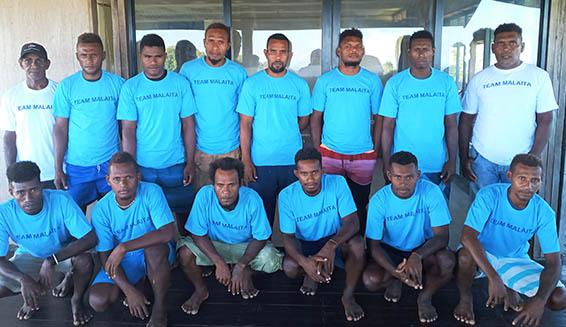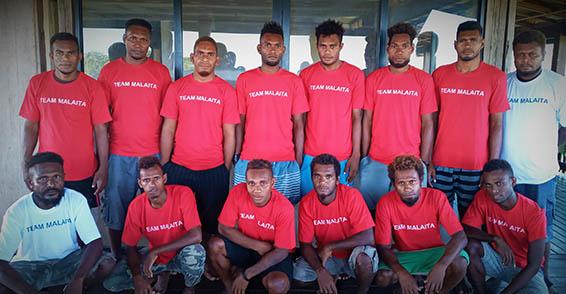 The t-shirts were being sponsored by members of the Kwai Community in Honiara following an 'Appeal for Assistance' by the team management. The appeal was facilitated voluntarily by Journalist Ronald Toito'ona with printing assistance from Artist and Tattooist Fred Oge.
Malaita Kwikwi and Sisifiu team members and management received the 33 (24 players and 9 officials) t-shirts, in a short handing over ceremony at their Vura 2 Camp this morning.
Speaking on behalf of Team Malaita and the Kwai Island Football Club (FC), Team Manager, Timothy Utu said the assistance is just timely and it is a morale booster for the players and officials.
"The t-shirt assistance we received from you, the Kwai Community in Honiara is far beyond our expectation. This is an immense support from you, and members of both teams were very thankful to you for responding to our appeal and for the voluntary support," Mr Utu said.
He added, "such assistance involves a lot of money that even the club could not meet. This assistance is a morale booster for both teams as we are here to ensure Malaita Province retains its Beach Soccer title since 2016."
In response, Fred Oge said his team is very happy to take on-board the appeal by the Kwikwi-Sisifiu Club Management to sponsor the t-shirts as part of giving back to the people and province of Malaita.
"The assistance given to you, even though it's big or small, it is from our hearts. We are happy to give back to our province and the place we call home – Malaita.
"We wish both teams all the best in the competition and our support will continue on even after this Beach Soccer Championship. We also hope to see more players got exposed and selected into the 'Bilikiki' Squad this time around," Oge stated.
Meanwhile, Mr Oge is also appealing to the 14 Members of Parliament (MPs) from Malaita and all Malaitans in Honiara City to assist the Malaita Beach Soccer teams in any form during the course of the SIFF Beach Soccer Championship this week. For assistance purposes, the team management can be reached on mobile 7304715 or 8463680. –ENDS//
What you think?