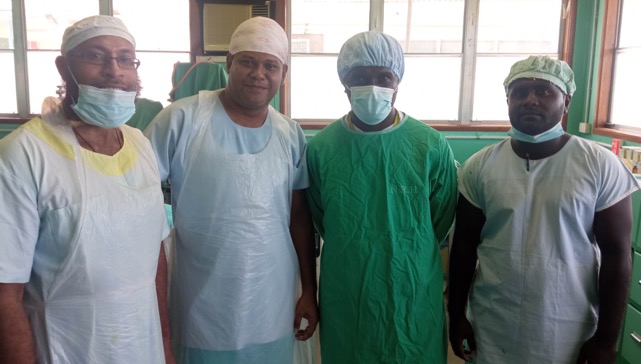 Patient referral is the process of moving sick patients to higher-level health facilities. Mostly, we hear of it when one of our family members or friends are moved from the provincial hospitals to the National Referral Hospital (NRH) in Honiara, either by ship or plane.
This happens when patients require more specialized capacity and equipment for medical procedures and specialized assessments that are not available in the provinces.
Referrals, simple as it may sound, it is not. It takes quite a significant amount of work to prepare for it to happen. From papers works of the patient and communicating the condition to clinicians at NRH, to arranging ambulance for pick up at either air or seaport, to booking tickets, return tickets included for travel of patient and escort doctors or nurses including bookings and arrangements for their accommodation while in Honiara.
Substantial costs also associated with referrals, both for the patient's families and the government.  These always ran into thousands that accumulate hundreds of thousands every year.  Every year around 700 to 800 referrals are made to NRH and normally account for around 40 percent of total admissions.
This month, health and lives of six patients at Helena Goldie Hospital in the Western Province who needed major surgeries were preserved and saved. Their families including the government spared from having to pay thousands of dollars for referral to Honiara that was in the end, no longer needed.
Thanks to these gentlemen pictured in this article. From left to right, Dr Raymond Dickson, Dr Jason Diau, Dr Hendrick Kaniki & Nurse Clayrick Bulehite who togther completed six surgeries in one day for the six patients with diabetes-related complications, obstetrics and gynaecology concerning women including pregnant women, and paediatric cases involving children at the Helena Goldie Hospital, Munda, Western Province.
The successful operations were led by Dr. Jason Diau (Second from left in the group photo), A senior surgical registrar who is currently doing his Master degree studies' under the Solomon Islands Government study program at the University of Papua New Guinea (UPNG).
Dr. Diau has more than 10 years of experience working in the provinces and has been a popular face amongst many families within the catchment areas of Atoifi and Kilufi Hospitals in Malaita Province and Gizo in the Western Province where he worked in his years of working experience.
Dr Diau was recently deployed to Gizo hospital to relieve another staff when he decided to take the extra mile to further his needed service to Helena Goldie Hospital.
"It was a pleasure indeed to help out at the Helen Goldie Hospital. The success of the surgeries is due to the wonderful team of two doctors and the nurses at the Helena Goldie Hospital who supported me in the operations",
"More importantly for our team is seeing the smiles on the faces of the patients and their families when we informed that their surgery was a success. All clinicians would know of such wonderful feeling from simple smiles and words of thanks from patients and their families. These often bolster our morale, motivation, and desire to do more for our people and country", explained Dr. Diau.
Dr. Diau encouraged young doctors to take on rural medicines which offer opportunities and experiences not available within urban areas such as exposure to a wider variety of cases and clinical experiences, "let alone the fact that the majority of our population reside in rural areas", said Dr. Diau.
Dr Kaniki who was recently posted to Munda Helena Goldie as the General Practitioner and Senior Medical Officer said that having Dr. Diau touring Helena Hospital was a blessing indeed for the patients and their families including the hospital as close to 30, thousand dollars would have been spent on referrals, around 4 thousand plus for each referral and this is only to meet travel alone and additional costs for escort doctor and accommodation in Honiara.
"Should an escort doctor or nurse leaves the hospital for Honiara, there will also be gap in manpower and capacity at the hospital which impacts hospital's capacity to perform to its fullest potential", added Dr Kaniki.
He concluded, "such procedures would not have been made possible too if not for the United Church, Western Province and National Ministry of Health and the National Referral Hospital support that has enabled the availability of equipment and facility to carry out such important and life-saving procedures.
What you think?