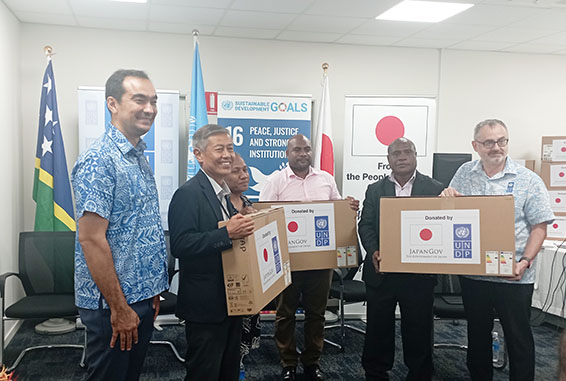 By Timothy Inifiri Jr
The Government of Japan together with the United Nations Development Programme (UNDP) have officially handed over ICT equipment to the Solomon Islands Independent Commission Against Corruption (SIICAC) and the Anti-corruption Secretariat under the policy & programs, office of the Prime Minister on Thursday in Honiara.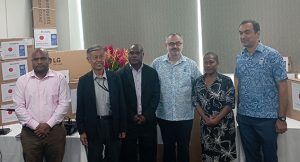 Speaking during the handing over, SIICAC Director General  John Kouni thanked the Government of Japan and the UNDP for their ongoing support towards SIICAC. He added that the equipment would be made in full use for the benefit of SIICAC and more importantly to fight corruption in the country.
"In order for the Anti-corruption agency or the Government to carry out its mandated task, it must be fully resourced. We value this assistance not really in monitory terms but what it can deliver towards fighting corruption in the country," Kouni stated.
He said that his organisation needs that ICT equipment because it will help them talk with outside institutions and other organisations that will assist in moving SIICAC forward. He assured that the equipment will be put in full use by the SIICAC officers.
Speaking on behalf of the Japanese Government, Ambassador of Japan to Solomon Islands, Ambassador Miwa Yoshiaki said that in the past four decades, his county's main focus area to Solomon Islands was really on infrastructure.
However, Yoshiaki also said that infrastructure gives only the framework for future development.
"When we think about the industry, the economy and the democracy, this corruption is such an element not included, but still corruption is deeply rooted which shows how difficulty to address this issue, it is not so easy", Yoshiaki said.
The ambassador also mentioned that enhancing this kind of anti-corruption project should also be very efficient.
"I think providing this kind of equipment to the function of SIICAC is very important, so I hope that this donation will contribute to the anti-corruption project of SIICAC in the Solomon Islands", he said.
The anticorruption Secretariat is under Office of the Prime Minister.
Deputy Secretary for Prime Minister's Office (Policy & Programs)- Mr. Tony Kabasi said that the support of ICT equipment to the anti-corruption secretariat under the OPMC policy program and the anti-corruption commission is crucial.
"The donated ICT equipment will ensure the newly established anti-corruption commission and the role of the anti-corruption secretariat to coordinate and facilitate the integrity institution framework are resourced and we'll equipped with the relevant ICT equipment needed for its operations including processing, storing and off course communication of relevant information", said Kabasi.
Kabasi also said that the handing over ceremony is a testament of a genuine valuable partnership between the Solomon Islands Government, Japan and UNDP.
UNDP Resident Representative Levan Bouadze who arrived in the country yesterday on Wednesday said the event was about building the capacity of anti-corruption institutions and that the ICT equipment that were handed were just a part of it.
News@SBMOnline2022
What you think?