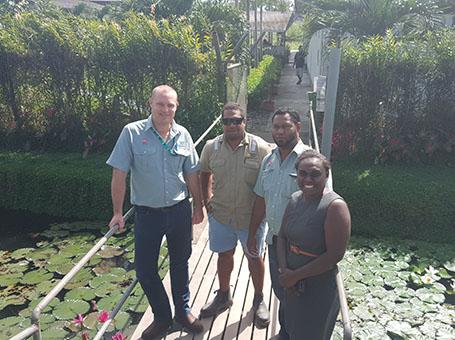 Up in the Guadalcanal Plains nothing changes much at the country's only palm oil plantation, the Guadalcanal Plains Palm Oil Plantation Limited, as it carries on with business as usual despite threats from COVID-19.
GPPOL, which enjoys first five months of operations, is amongst the few companies that operate as normal since the state of public emergency was declared in March this year.
In Honiara many Solomon Islanders were repatriated to their home villages in one of the biggest exoduses of modern time history as they fled from a possible wrath of the deadly coronavirus, which has so far killed thousands globally and infected millions. Solomon Islands is one of the few countries in the world that is still COVID-19 free after the government had taken stern measures very early including the closing of the country's international borders and the banning of international flights.
Despite the panic that struck the heart-beat of the country—Honiara resulted in the mass exodus—just few kilometers up in the east, GPPOL is one of the rare success stories as it keeps operational at full capacity and surprisingly recruited a further 200 workers to cater for its peak harvesting season.
"Our people have been excellent to this day. We are going ahead as much as we can and for as long as we can.
"We are lucky today that there is no COVID-19 in Solomon Islands. The government has done a pretty good job to keep it out from our shores," GPPOL general manager Craig Gibsone told SBM at Tetere, where the company's head office is located.
"We are going through our peak period of production so instead of laying off people we are recruiting.
"When we first started we had problem with recruiting new workers as people were going back to their provinces and there wasn't that many people around. Since then people have returned and we have recruited nearly 200," Gibsone reveals in the interview.
He said despite that GPPOL would continue to operate and with the price of palm oil expected to drop in the final months of the year they would continue to produce oil at maximum capacity.
"Our only response to the low price is to produce more –and we can't leave the fruit on the palm. All we need to do is to produce more as much as we can and efficiently as we can and for that we need more people," he said.
Regarding GPPOL's operations in the first five months, Gibsone admits that the price of palm oil has been good.
"The price has been good because we can set them two to three months in advance. There were good prices in January and February and up to last month and our shipments were getting a reasonable price," he said.
However he said that from this month onwards, the price would be falling significantly.
He reveals that the price is likely to drop to about 35-40 percent for the rest of the year.
"We had a reasonable first five months of the year but we are forecasting hard times for the rest of the year. Hopefully the first five months can cushion any damages against that," he states.
According to Gibsone, there are a lot of factors that contribute to the drop in price; one of them is supply and demand.
GPPOL currently exports 5,000 tons a month and 35,000 tones a year to Europe, mostly to the United Kingdom and the Netherlands. It operates one mill at Tetere which runs for 24 hours at three shifts.
The company employs about 1,100 workers from all parts of the country and they are accommodated at their workstations in the Guadalcanal Plains.
COVID-19 preparedness
As a big company with more than 1,000 employees, GPPOL is well prepared for any possible outbreaks of the coronavirus.
When the state of public emergency was declared they packed their clinics with the required equipment and the clinic staff were trained to deal with any possible outbreaks of persons with COVID-19. The training was carried out by private doctor, Paul Bosawai who was a former employee of GPPOL.
Gibsone said they have engaged Dr Paul as their consultant and he uses his network for assistance in addition to that they also sought support from the Ministry of Health and Medical Services.
Meanwhile GPPOL officers had also engaged in awareness talks to the workers – explaining to them the importance of their preparedness for the virus— and what are its likely impacts on the community.
"There was a lot of uncertainty. We stopped the panic by passing the right information to our people," he said.
According to Gibsone, they even have a plan in place for their own lockdown should the coronavirus arrives in the country. He said we will also work with the advice being given by the Government.
Stimulus package
GPPOL sees the stimulus package in another way and even though they have not raised their hands for a possible support from the government, they would like to see the government reconsiders their request to lower the costs to some of the expensive import goods they are bringing in like fertilizer which they have heavily relied on.
"Even though we are exporters— we also import a lot. Currently the costs are higher due to a lot of quarantine that is done around the world. The cost is then passed on to the customer and we have to pay extra for our goods like fertilizers, which is key to our production.
"If we spend less on fertilizer or less tax on fertilizer it will also benefit a lot of people. If fertilizer is cheap for the small holders then they will produce more," he said.
Front Liners
George Wolo is not just an ordinary worker. But he's one of the top harvesters of GPPOL.
SBM was given rare access in GPPOL to witness the workers going about their normal jobs as they slowly keep the country's economy wheels spinning in the agricultural sector. And in the midst of the COVID-19's depressed stories, the sentiment coming out of the country's only palm oil planation is uplifting.
"We're cautious – but we are going on as normal," said Gibsone.
On the field, GPPOL's harvesters, cutters, wheelers and stackers so as the loose fruit collectors were going on with business as usual under shade and rows of endless oil palm trees. Amongst them was Wolo who was named the worker of the month in the latest company's awards.
A typical Makira lad who has little to say, Wolo let his harvesting hook did the talking. In scooping the latest monthly award, Wolo harvested 5,000 bunches of oil palm for two weeks coupled with his excellent daily attendance.
The Makira lad from Star Harbour said he's happy to work with GPPOL for the past four years as it has really helped him, his family and his parents back in Makira.
He states despite the COVID-19 pandemic when all others are going home – they are still working – doing what they do best to help to build the country's economy.
Wolo and his colleagues silently work under the palm trees without knowing that their efforts have helped to keep the country's economy floating in times of disaster like COVID-19.
Not far from Wolo was another Solomon Islander, Junior Nelvis.
Hailed from Guadalcanal, Nelvis is a wheeler who wheels the fruits to the road-side for pick-up into the factory.
"I have been working here since 2008. I started as a stacker but now I am a wheeler," he said.
He said despite reports of coronavirus they have been working as normal.
"There's not much change for us. Everything runs as normal so we enjoy what we are doing," said Nelvis standing besides his wheelbarrow.
He said he loves his job and is not seeing himself leaving GPPOL soon.
"The good thing about working here is they give you a house, free water and electricity something that you can't get in Honiara," said Nelvis who comes from South Guadalcanal.
All of the plantation workers are managed by Harris Taimama'o Giusaga who is the Plantation Manager.
Giusaga said GPPOL is employing workers from all over the country and they have been working in a very friendly environment.
He is impressed by his workers who have to work very hard to meet their targets as expected of them by the company.
News@SBMOnline2020
What you think?