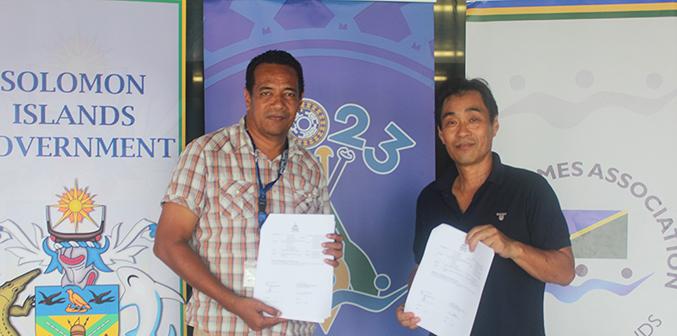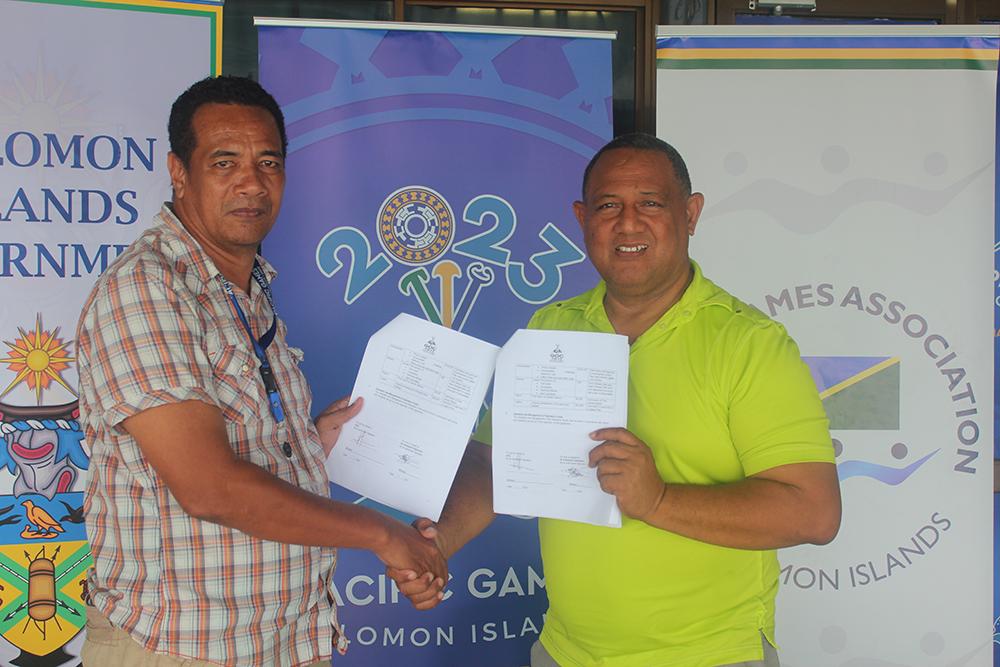 HONIARA, 16 December, 2021 – The Games Organising Committee (GOC) for the 2023 Pacific Games in Solomon Islands today (Thursday 16 December 2021) launched a funding programme to support National Sports Federations in Solomon Islands.
This aims to support the functionality and enhancement of National Sports Federations (NSFs) ahead and beyond 2023 as part of the Federations' commitment to engage with the GOC in delivering their respective sport competitions at the 2023 Pacific Games in Honiara, Solomon Islands.
Adrian Tuhanuku, GOC's Senior Sport Delivery Manager, highlighted that the SBD50,000 funding programme is one of the support initiatives for NSFs purposely to ensure they are functioning and are prepared to support the GOC in the delivery of the 2023 Games.
Three (3) Federations namely the Solomon Islands Weightlifting Federation, Solomon Islands Golf Federation and the Solomon Islands Volleyball Federation were the first to sign a binding agreement on Thursday 16 December, 2021 to access this fund after the GOC through its Sport Delivery Department received clearance from both the National Sports Council (NSC) and the National Olympic Committee of Solomon Islands (NOCSI) on this three Federations' eligibility.
The local Tennis, Rugby and Boxing Federations are the next to sign their funding agreements with GOC on Friday 17th December while six other Federations are awaiting clearance from either NSC or NOCSI in terms of their governance.
The GOC also takes into consideration Federations' performances in previous regional Games and their medal prospect for 2023.
Solomon Islands have twenty-four (24) Sports Federations that are confirmed to take part during the 2023 Pacific Games.
Mr. Tuhanuku further highlighted that in order for Federations to qualify to access this funding support, they must have an existing bank account, a finance officer responsible for auditing, they must have a full executive according to their respective constitutions, be in good standing with their respective International Federations (IFs), NSC and NOCSI and must be a properly registered sports body.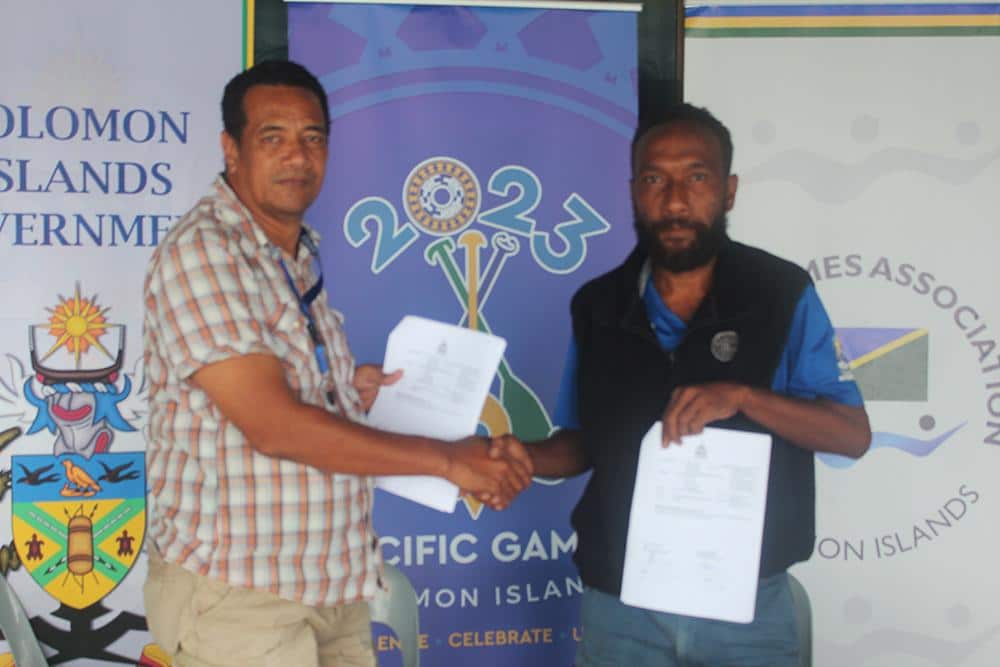 "In terms of utilizing the funds, Federations are required to settle all or any outstanding affiliation fees they may have with NOCSI, NSC and their IFs up until 2024 which will enable Federations that are inactive to restore some kind of functionality while enhancing those that are already active.
"The funding support comprises of two components which are the functional component based on the basic requirements that will enable Federations to become functional and the strengthening component to assist the Federations in their administrative operational costs. Any other payment that is outside of a set Payment Eligibility Schedule will be subject to approval by the GOC's Sport Delivery Department," Mr. Tuhanuku said.
The payment of funds to Federations will be done according to the Phases set out in the Schedule of Payment in the agreement between GOC and the Federations.
Meanwhile, monitoring systems will be in place to assess whether or not the funds granted to Federations are properly utilized as intended and to ensure the effectiveness of the funds provided to the Federations.
The amounts for the fund can be reviewed and amended periodically, taking into account the increase in operational costs and requirements, when it is deemed necessary which also follows in line with GOC's planned legacy of well governed and functioning NSFs post 2023.
Chief Executive Officer (CEO) of GOC, Mr. Peter Stewart said: "While the focus has been on preparation for the 2023 Pacific Games not much attention has been given to the governance and administration of National Federations. The Games emphasises the importance of having functioning Federations capable of supporting its mission to deliver in 2023."
While the recently completed Solomon Islands National Institute of Sport (SINIS) High – Performance is responsible for developing Team Solomons, GOC's sole focus is in ensuring a successful Games for all participating nations from the region including Australia and New Zealand.
This means GOC is tasked with delivering the sports program for the 2023 Games, as well as the opening and closing ceremonies, marketing, broadcasting, security, transport and logistics, and the meals and accommodation for an estimated 5,000 athletes and officials.
What you think?