Flag Based Early Warning System extended to Western Province
The Solomon Islands Meteorological Service (SIMS) has extended its Marine early Warning system to the Western Province after it was successfully trialled  and launched in Tulagi, Central Province last year. Funded by the Australian government through UNDP's Integrated Disaster Risk Management (IDRM), the Project is being implemented through a partnership between the Solomon Islands Meteorological Service (SIMS) Solomon Islands Maritime Authority (SIMA) and the National Disaster Management Office (NDMO)
The warning system uses a flag to notify small craft skippers of current weather conditions to allow them to make important decisions before they travel across to another island or the open ocean. This is part of SIMS efforts to implement and distribute Early Warning Messages into simple, understandable and usable forms to address the issue of Loss of Lives at Sea.
Opening the Two-day workshop this week Deputy Provincial Secretary Western Mr Patrick Toiraena said the province is pleased that the SIMS has seen the need to extend this very important service to the Western Province.  He said it has been the desire of the province to see that the use and operation of small craft must be regulated
"As you are all aware, ours is a maritime province and people do a lot of intern island travels and so the need to have a system in place to look after the safety of our skippers and the traveling public is paramount"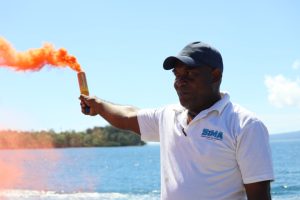 He said that incidences involving small craft going missing at sea is quite a common occurrence in the Province and sadly it is something that we can avoid if we have some kind of measures in place to try and mitigate reoccurrence of such incidences.
"I hope in the next two days of discussion and information sharing you will be able to address some of the gaps that exist in terms of safety and saving lives at sea, especially by our small craft operators"
Mr Toiraena concluded by thanking the Australian Government through UNDP for their funding support in this particular area. "Traveling inter-island is an important part of the people's lives here and the province is grateful for this support," he said.
The two-day workshop was attended by over 50 participants representing communities from Simbo, Ranonga, Vella La Vella, Kolombangara, Rarumana, Munda and Noro. Also present at this workshop were representatives from the Western Province Disaster Operations Committee (P-DOC) and other relevant government institutions. Representatives from the NGOs and the private sector were also present at this workshop.  UNDP's IDRM Project contribution to this initiative is linked to the government's overall aim of strengthening community resilience through enhanced early warning systems.
Speaking on behalf of the Ministry of Environment Climate Change Disaster Management and Meteorology, the Director of SIMS Mr. David Hiriasia thanked all the participating skippers and other stakeholders for making it to Gizo for the workshop.
He told participants that "There is a success story behind the initiative in Tulagi, Central Province.  And so, your presence here is the beginning of another step for the IDRM-Flag Early Warning System in the country. He said the reason for choosing Central and Western Provinces is because these two provinces are made up of scattered islands and chances of them having issues with safety at sea is quite high"
To the skippers, he said "You are here because you are important, the decisions you make will either save or take away lives, so please look to yourselves as someone doing a very important job, because it is a very important job"
Meanwhile, Deputy Secretary Corporate for the Ministry of Environment Mr. Karl Kuper who made it just in time before the workshop properly acknowledged the Western Provincial for allowing the MECDM to conduct this very important life-saving workshop at the provincial capital Gizo. He added that his Ministry through SIMS will continue to provide important weather-related information to the public, especially to the skippers and owners of small crafts so they can be able to make the right decisions before travelling between the islands.
With that he thanked the Australian Government, UNDP IDRM Project, Solomon Islands Maritime Authority (SIMA), the National Disaster Management Office (NDMO), and the participants for making this workshop possible.
Ends//
What you think?