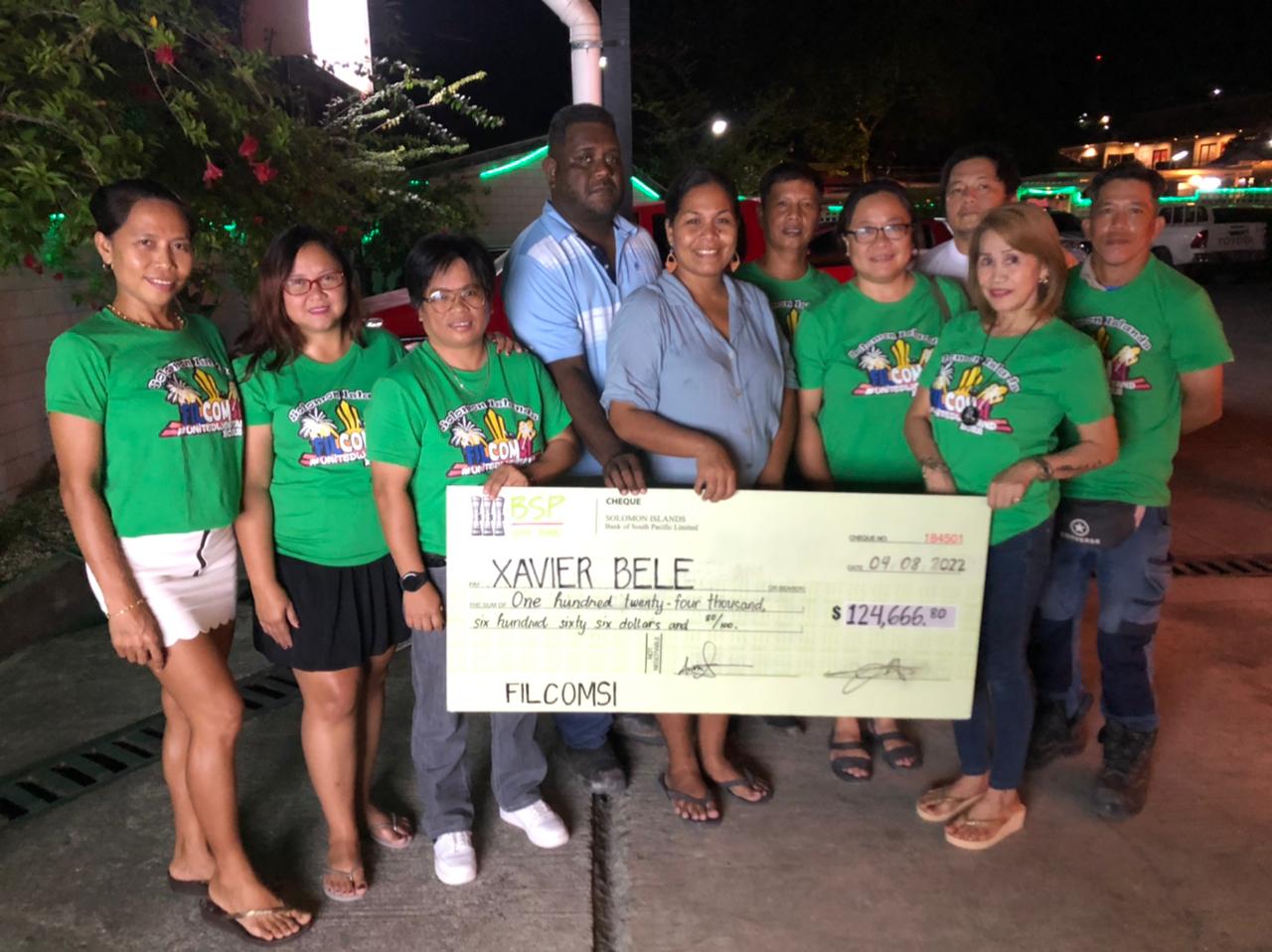 One of the most populous expatriate communities in the country – the Filipino Community in the Solomon Islands (FILCOMSI) made a hearty donation for a good cause in financially supporting young Xavier Bele for his cancer treatment overseas.
On July 30th 2022 the committee hosted a 'Retro Night Fever' at the Iron Bottom Sound (IBS) – 'Party for cause'. A disco 'retro' and a fundraising event to give financial assistance for the medication of the 3-year-old who is suffering from Leukemia.
"FILCOMSI is an organization that supports the community in the Solomon Islands through outreach programs. However, as part of community service, we had just done a fundraising event on July 30th to help the youngest son of Mr Francis Bele and Mrs Samantha Bele from Ngosii," a FILCOMSI statement reads.
"After the fundraising event, FILCOMSI was able to gather SBD$124,666 as financial support for Xavier's medication. With the help of FILCOMSI officers, they went around to solicit from various companies and individuals to participate in the fundraising.
"Knowing how friendly and happy people the Filipinos are, the night has been memorable, especially for islanders who had attended the fundraising party. Many locals requested to organize the same event again.
Xavier is currently at the National Referral Hospital (NRH) No.9, undergoing a series of chemotherapy and will soon travel overseas for a bone marrow transplant.
Xavier's father Mr Bele wholeheartedly thanks FILCOMSI for its generosity.
"The donation given to us by the Filipino Community in the Solomon Islands was like a gift and a message from God that came at a time when we needed it the most," Mr Bele expressed.
"I would not call it coincidental but divine intervention. It was a gift that outweighs any other gift that my family and I had ever received in the past, a gift valuable enough to give our three-year-old son a second chance in life. Also, it was a message for us that no matter what, for Xavier's sake, we must never give up.
"Thank you and God Bless the Filipino Community in the Solomon Islands and around the world.
FILCOMSI, headed by President Myrtle Atienza, actively operates in the country in cooperation and collaboration with the Embassy of the Philippines in Papua New Guinea, the Philippine Overseas Employment Agency (POEA) as well as the Department of Foreign Affairs – Manila.
"We also have a legal department as directed by the Vice President of FILCOMSI Mr Arman Tongco. Our finances are handled and supervised by the FILCOMSI Treasurer Ms Elsa Gonzales, supported by the Assistant Treasurer Ms Villa Repollo.
FILCOMSI documentation and paper works are carried out and managed by Secretary Ms Ann Jeanette Umali. The board Member Committee for FILCOMSI Membership is being managed effectively by Ms Julie Petersen.
"We also have Board Members committee ruling the sports headed by Mr Vonriech Saban and Board Member Mr Julius Villones leading the FILCOMSI's social media and events committee.
"These people behind the FILCOMSI are considered the pillars of the organization and expect to finish substantial projects before their term ends this year. Members of FILCOMSI are mainstays and foundations of the organization because, without their faith and support, we wouldn't be enduring," the statement continues.
Putting together all efforts and possibilities, the Filipino people residing in the Solomon Islands could be reliant on FILCOMSI to promote service and not affliction, unity and advancement instead of disintegration, and more so, integrity over illegitimacy.
"We will be looking forward to a better community to serve as we move on and have our being.
The fundraising event gathered sponsors from business houses and individuals;
YSATO, United States Embassy, Solomon Islands Ports Authority (SIPA), EFM, Grace Kiernan, SOLRICE, Island Deals, Jing Spa, Trends, South Pacific Oil (SPO), ANZ Bank, Mas Pacific, SFA, Jone Taqauqau, Toby Griffiths, Upshine, Coffee Bar, JAMTS Apparel Shop, Printwise, Meat Lovers and IBS.
"For those that haven't joined in yet, you might be in a remote area or on an island far away from Honiara, we are inviting you to unite with us.
To contact FILCOMSI you can message: [email protected] or to any FILCOMSI officers on Facebook.
What you think?