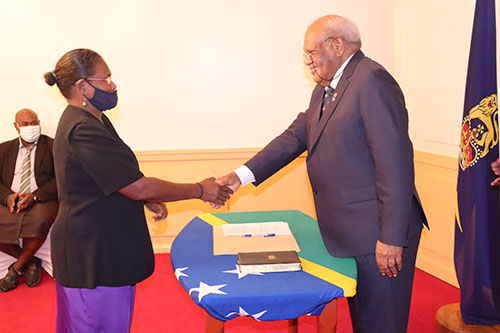 A retired long-time female civil servant was appointed as one of the Commissioners to the Leadership Code Commission (LCC).
Ms. Decima Regatule from Kia in Isabel Province was sworn-in at the Government House today (25 July) before the Acting Governor General, His Excellency, Patterson Oti in the presence of the Chairman and staff of the LCC Office.
Ms. Regatule served the Solomon Islands Government for a total of 40yrs since 1979. She had a long experience in serving as an Executive Personal Secretary both locally and regionally. She eventually made her way to becoming the Commission Secretary to the Leadership Code Commission from January 2007 to December 2020.
She had served in the following offices:
Office of the Prime Minister & Cabinet: Dec 1979 – 1980
Department of Foreign Affairs: May 1980
Government House: June 1980 – Dec 1980
Judicial Department: Jan 1981 – June 1981
Ministry of Finance & Treasury: Aug 1981 – Oct 1999
SI High Commission, Canberra: Nov 1999 – Feb 2000
Ministry of Finance & Treasury: March 2000 – Dec 2006
OPMC/Leadership Code Commission: Jan 2007 – Dec 2020
After leaving the civil service in 2020 she has been actively involved in working with the Kingdom Harvest Ministries International and those within her Community at Naha in East Honiara in the hope of unifying and shaping young people to become exemplary citizens through sports and other community activities.
The Commissioner's position has been vacant since May 2022. The Leadership Code Commission is delighted to welcome Ms. Regatule back to the LCC team as the newly appointed Commissioner.
"She is an asset to the Commission with a wealth of knowledge, administrative experience and has maintained good partnership with other Agencies and Offices she has served under, and we look forward to learning and working with her," a statement from the LCC Office said.
What you think?