Home
Business
Empowering Youth in Central Province: Sapia, from Youth Worker to Successful Entrepreneur
Empowering Youth in Central Province: Sapia, from Youth Worker to Successful Entrepreneur
Richard Sapia, the Owner/Operator of Tulagi Tours and Travel, is a shining example of how determination, passion, and a willingness to learn can transform a young person into a successful entrepreneur. Before venturing into the world of business, Richard's journey began as a youth worker and volunteering at various Non-governmental Organizations in Honiara and Central province.
His dedication to youth development work at the provincial level laid the foundation for his future endeavours. In 2018, the idea to establish a small tour guide business started taking shape. Encouraged by a former tourism officer from Central Province and an AVI (Australian Volunteers International) volunteer, Richard took the leap into entrepreneurship. At the time, he was volunteering at the Family Support Center on Tulagi, his birthplace.
One of the challenges he faced was his lack of background in tourism. However, armed with determination and guided by the support of AVI and the tourism office, Richard embarked on a journey of self-teaching and extensive research to understand the nuances of the field. He saw his business as an opportunity to fill a gap in the local tourism industry in Central Province, where a tour operator was sorely lacking.
Richard's journey coincided with the establishment of Young Entrepreneurs Council Solomon Islands Initiative (YECSI). Joining YECSI proved to be a pivotal decision as their services, including mentorship programs and the Innovation Blo Umi program, greatly enhanced his entrepreneurial skills and capacity.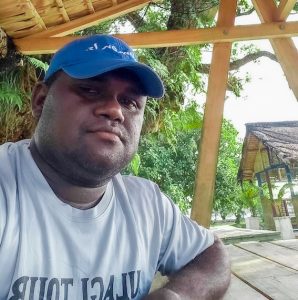 Formally registering his small business in 2019 marked a significant milestone. Building networks within the sector and overcoming challenges such as limited access to boats and outboard motors, Richard collaborated with boat owners to provide services like boat transfers to sites outside Tulagi. However, the emergence of the COVID-19 pandemic posed unprecedented challenges. Despite setbacks, Richard's resilience led him to innovate alternative business strategies, allowing his business to weather the storm.
Richard's inspiration stems from his profound interest in local history and his dedication to preserving it. Growing up in Tulagi provided him with a deep understanding of the island's history, which he passionately shares through his tours. Moreover, his commitment to environmental conservation led him to initiate and personally support local environmental initiatives, particularly waste management.
Tulagi Tours and Travel now offers tours to Tulagi and surrounding islands, as well as boat transfers and day trips. It collaborates with Honiara-based inbound operators, coordinating tours for organized excursions and cruise trips to Tulagi.
Richard's journey from Tulagi to King George VI (KGVI) to Solomon Islands National University (SINU), where he pursued a Diploma in Youth Development Studies, was a winding road that eventually led him to entrepreneurship. Although he initially aspired to be a social worker, his entrepreneurial spirit took over, motivated by the opportunity to contribute to his community through his small business— Tulagi Tours and Travel.
"I believe that entrepreneurship is a powerful tool for social change. By creating businesses that are sustainable and ethical, we can create jobs, improve livelihoods, and protect the environment. I am proud to be a part of this movement, and I hope that my story will inspire other young people to follow in my footsteps." Richard said.
Navigating the challenges of the Solomon Islands' tourism sector, particularly as a small operator, demands immense effort and determination. Richard emphasizes the need for both provincial and national governments to play a supportive role in promoting and sustaining local tourism operators.
Richard extends his gratitude to the Ministry of Tourism for supporting his business through the sea transport project, which has significantly improved his operations.
Currently, Richard has recruited three proficient tour guides and two skilled boat drivers. His keen commitment lies in fostering opportunities for aspiring young talents to contribute significantly within his business endeavours.
Richard's story underscores the importance of hard work, networking, and setting achievable goals. His journey from a youth worker to a thriving entrepreneur serves as an inspiring example for young people in Honiara and beyond.
Through dedication and determination, dreams can evolve into successful ventures that empower both individuals and their communities.
Story by Beyond The Lens
 Beyond The Lens is a vibrant platform dedicated to advocating for youth issues. Our mission is to empower young people, amplify their voices, and drive positive change throughout the Solomon Islands using the power of online media.
What you think?