Detke takes the lead in cleaning Honiara as he buys $6 per kilo for empty cans
The MP for North West Guadalcanal, Bodo Detke, has taken the lead in what he describes as a clean-up of Honiara with his company buying empty cans (aluminum cans) at $6 per kilo—the highest price per kilo ever paid in the city.
It's just been seven weeks but Bodo's business is benefiting most of the can collectors with a better return for their efforts and empty cans are now being removed from the streets.
"We are now buying empty cans at $6 per kilos—but I can guarantee you in July it will be $8 a kilo," the MP exclusively told SBMOnline this morning.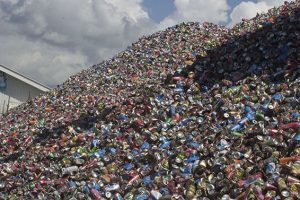 Bodo, a businessman and politician said the entire idea behind him entering into buying cans is to clean Honiara especially in preparation for the Pacific Games. But he stressed that it has to base on money.
Detke said with the good high price he now offers people have come out to be part of it knowing they'll get good money in return.
Bodo said people, young and old, are bringing in old and new empty cans each day and they are happy because in the end they get good return for their efforts.
"I am happy to help the small people who struggle to collect empty cans everyday but get little in return. Today, we are changing the game—we want to give good money for their efforts this will enable them to support themselves and their families," said the MP.
As the MP for North West Guadalcanal, Deke is also buying empty cans from his constituents as far as Selwyn College in the west. He also buys cans on east side into the GPPOL area.
The key man on the ground, Bradford Kali, said it's amazing to see how people have responded to the new price.
He said people are embracing it— as they are benefiting from empty cans they have collected over the years.
"At times I have to make few trips a day to pick bags of empty cans from the west side as people are aware of the price," he said.
The cans are now being securely piled in yard at KGVI – ready to be pounded into smaller portions with a machine before exporting to Australia for recycling.
The buying site for cans is at the Bodo Building opposite of Burns Creek Market.
What you think?